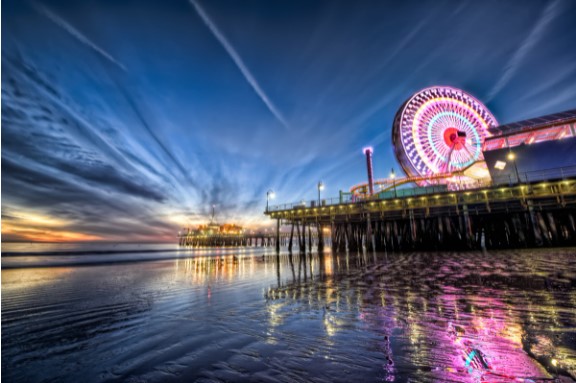 To many, Santa Monica embodies the quintessential Southern California lifestyle. This city of around 91,000 residents boasts miles of gorgeous beaches, an iconic pier and amusement park, and a great central location that makes it highly accessible to and from the rest of the region.
Santa Monica's vibrancy and energy is one of its biggest draws. But there's more to living in this highly popular community than meets the eye. If you're moving to SoCal and looking for the right neighborhood for you, take a closer look at what this amazing city has to offer.
What's Inside:
A brief history
What is living in Santa Monica like?

The weather
Location and accessibility
Economy and employment
Schools
The beaches
Private beach clubs
The Santa Monica Pier
World-class shopping and dining

Real estate in Santa Monica
The best neighborhoods to look for homes in Santa Monica

Downtown Santa Monica
Wilshire-Montana
Palisades Beach Road
Sunset Park
Ocean Park
Santa Monica Canyon

Learn more about living in Santa Monica with Nili Hudson
A brief history
The area's earliest inhabitants were the Tongva Native Americans. In 1769, Spanish explorers led by Gaspar de Portola became the first Europeans to set foot in the territory, and are credited for naming the place after Saint Monica, the mother of Saint Augustine.
After serving as a grazing range following the Mexican-American War, Santa Monica was developed as a town in the 1870s by mining magnates Col. Robert S. Baker and Senator John P. Jones. The city's founders envisioned Santa Monica to be a deepwater port, but lost out to nearby San Pedro for this designation. Instead, Santa Monica grew in popularity as a tourist destination, as word spread quickly about the city's beautiful beaches and recreational piers.
With the construction of the Santa Monica Freeway in the 1960s connecting Downtown Santa Monica to the rest of LA County, the city continued to attract more residents, visitors, and businesses over the years.
Today, Santa Monica is considered one of the best places to live in California and the United States, and its ever-dynamic character continues to define the lifestyle here.
What is living in Santa Monica like?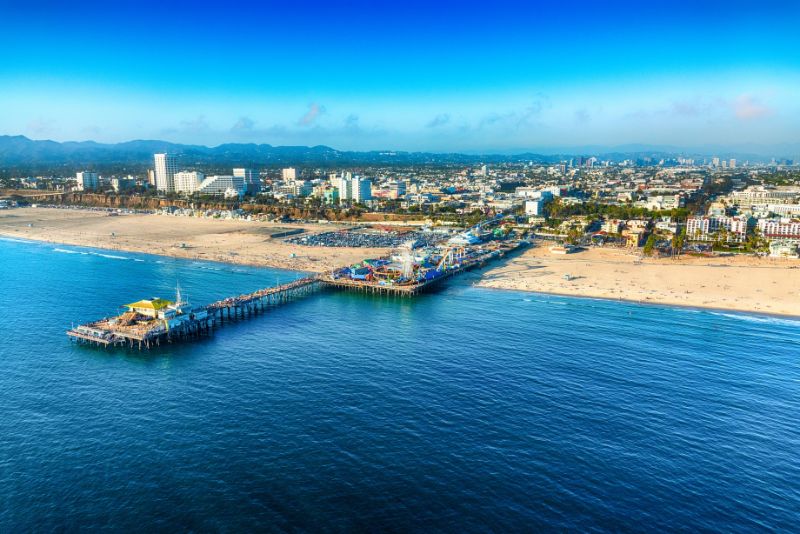 With 3.5 miles of spectacular beaches along the Pacific Ocean, distinctive waterfront attractions, and the latest urban attractions and amenities, Santa Monica has everything you can ask for in a SoCal lifestyle.
Here's what you need to know about living here:
The weather
Santa Monica gets 310 days of sunshine on average every year, making it perfect for an active and outdoorsy lifestyle. The Santa Monica Bay can bring in heavy morning fog during the summer, but heat from the sun usually clears this up by noon. The cool breezes from the bay keep the air crisp, fresh, and smog-free.
In the summer, the area closest to the beach is cooler than the inland areas during the day, but it is also warmer at night. The average low temperature is only around 56 degrees, while the average high temperature is approximately 69 degrees.
Location and accessibility
Part of LA County, Santa Monica is bordered by the Los Angeles neighborhoods of Pacific Palisades, Brentwood, Venice, West Los Angeles, and Mar Vista. The Pacific Ocean's Santa Monica Bay makes up its western border.
Two major thoroughfares – Wilshire Boulevard and the Santa Monica Freeway – bisect the city from the west to the east, while Lincoln Boulevard runs through the city north to south.
Santa Monica's central location puts it less than 20 minutes to the downtown Los Angeles area, approximately 15 minutes to Beverly Hills, and just around 30 minutes to Hollywood, giving residents easy access to the metro's top financial services, job opportunities, excellent schools, and world-famous shopping and dining.
Economy and employment
Santa Monica is one of the major economic centers in Southern California, providing residents with plenty of job and business opportunities. The city is the headquarters of some of the top companies in the world, such as the RAND Corporation, Universal Music Group, Lionsgate Entertainment, Hulu, Miramax, and more.
Santa Monica anchors Silicon Beach, a coastal region that serves as home to over 500 technological companies, ranging from startups to giant corporations like Google, Yahoo!, Netflix, Facebook, and more. Other Silicon Beach communities include Venice, Playa Vista, Playa del Rey, and more.
Schools
Santa Monica is served by Santa Monica-Malibu Unified School District, which includes 10 elementary schools, three middle schools, three high schools, and an alternative school. The public schools in the area have an above average math and reading proficiency, and some have been ranked by US News and World Report.
The top-rated schools in the district include:
Franklin Elementary School
Roosevelt Elementary School
Grant Elementary School
Santa Monica High
In addition, residents have the option to send their kids to one of the 18 private schools that serve the city, some of which are considered among the best in the state. The top-ranked private schools in Santa Monica include:
Carlthorp School
Crossroads School for Arts and Sciences
New Roads School
Pacifica Christian High School
St. Monica Catholic Elementary School
St. Monica Catholic High School
Saint Anne School
The beaches
Santa Monica Beach is one of the most famous destinations in Southern California and one of the top things that make living in Santa Monica truly special.
Stretching 3.5 miles, the soft sandy beach offers plenty of room for everyone to have a full day of fun under the sun. It is a popular surfing spot that's frequented by both professionals and amateurs alike, and is also a magnet for paddleboarding enthusiasts. Other popular activities here include biking, beach volleyball, running, and so much more.
The Santa Monica Beach is divided into three smaller beaches – North of the Pier, South of the Pier, and Sorrento Beach, and each one has its own appeal and attractions.
North of the Pier Beach
North of the Pier can be accessed from the city through walkways, stairs, and bridges. It is home to the Annenberg Community Beach House, a public facility with amenities that include volleyball courts, beach soccer fields, a heated pool, a splash pad, and more.

The beach house has a long and colorful history. It was originally a five-acre estate built in the 1920s by newspaper tycoon William Randolph Hearst for actress Marion Davies. Today, guests at the Annenberg Community Beach House can also tour the restored Marion Davies Guest House and Pool, with docents on hand to talk about the rich history of the place.

Another attraction at North of the Pier Beach is the North Beach

South of the Pier Beach
On this side of the Santa Monica Beach, gorgeous homes, hotels, and parks border the sandy shores. This is also the location of the Original Muscle Beach, an outdoor gym with old school equipment like parallel bars, rings, ropes, and benches.

Another popular attraction on South of the Pier Beach is International Chess Park, an outdoor facility for chess lovers, featuring tables with chess boards and a huge human-scale chessboard.

Sorrento Beach
Found at the northernmost end of Santa Monica Beach, Sorrento Beach is famous for its beach volleyball courts, and has been synonymous with the sport since the 1950s. It's a great takeoff point for other activities in the area, including biking on the Marvin Braude Bike Path, exploring the Santa Monica Pier, or picnicking at Palisades Park.
Private beach clubs
For those who want a less crowded and more luxurious beach experience, Santa Monica's coveted private beach clubs offer the perfect solution. Your options include:
Jonathan Beach Club
Since it opened in 1927, this highly exclusive beach club has counted many of LA's rich and famous among its past and present members. Consistently named one of the top clubs in the world by Platinum Clubs of America, Jonathan Beach Club gives members access to stunning private beaches and upscale amenities that include an indoor pool, an outdoor children's pool, a spa, paddle tennis courts, a gym, and others. Membership to the club is by invitation only.
The Beach Club – Santa Monica
Popularly known as The BC, this beach club is famously private and exclusive, with membership capped at only around 650 families. The property spans two acres and includes a number of amenities, including beach volleyball courts, paddle tennis courts, a Sky Bar with an adults-only deck, and more.
Bel-Air Bay Club
Constructed between 1927 and 1928, Bel-Air Bay Club was the center of social activity in Los Angeles from the 1920s to the 1940s. The 40-acre property is divided into two facilities – the Upper Club, which has become one of LA's most popular wedding venues, and the Lower Club, which remains a private beach club. Membership to the club is the priciest among LA's beach clubs but you'll be rewarded by a beautiful beachfront stretching a quarter of a mile, opulent cabanas, paddle tennis courts, and other amenities.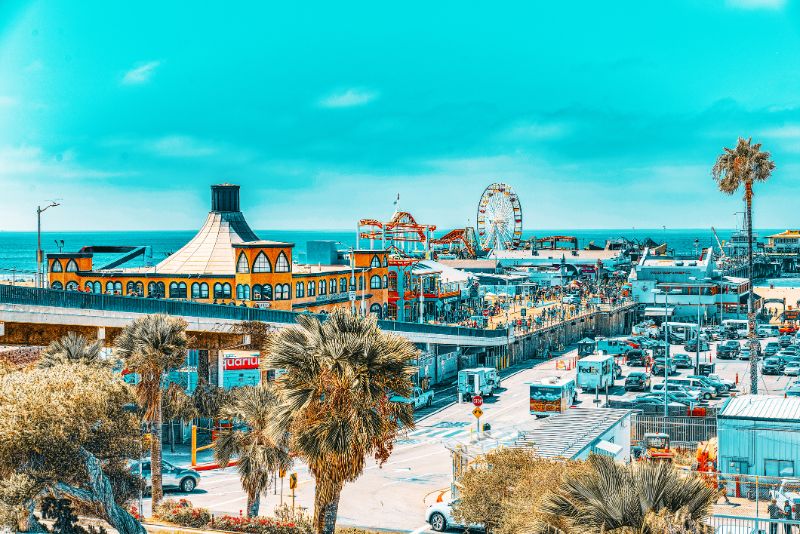 This iconic Santa Monica attraction is the heart and soul of the city. Constructed in 1909, the Santa Monica Pier has been the city's most defining feature, with the landmark Ferris wheel serving as a beacon to revelers of all ages from around the world.
Located right in the heart of Santa Monica Beach, the Santa Monica Pier is a National Historic Landmark that's visited by around 4 million people every year. It is the city's most famous park, and offers a host of activities and attractions.
Some of the top things to do here include:
Taking a stroll down the pier
The first concrete pier in the West Coast, the Santa Monica Pier stretches into the Pacific Ocean and provides breathtaking views for strollers. It's the perfect way to have a quick rejuvenating connection with nature.
Pier fishing
Fishing has been one of the earliest activities on the pier, and it's something you can still do to this day. Sea bass, black croaker, and other fish species populate the waters just under the pier, so your patience is bound to be rewarded with a good catch.
Enjoying the amusement park rides
A visit to the Santa Monica Pier is never complete without enjoying the area's iconic rides, such as the Pacific Wheel, the world's first solar-powered Ferris wheel, and the West Coaster, a steel roller coaster rising 55 feet. Also a must-do is riding the Looff Hippodrome Carousel, which was built in 1922 and is one of the few remaining original structures in the Pier.

Opened in 1996, the Pacific Park features a dozen rides, including the Pacific Wheel and the West Coaster. The park also offers a host of other activities and attractions, such as amusement park games, a number of restaurants and food booths, souvenir shops, and more.

Going to the arcade
Playland Arcade is another must-visit attraction at the Santa Monica Pier. It has been family-operated since 1954 and features numerous arcade games, ranging from classics like basketball and skeeball to the latest additions in the gaming world.
Shopping and dining
The Pier hosts dozens of restaurants and food carts where you can enjoy all kinds of food, from seafood and burgers to Mexican and healthy fare.

There are also a host of charming shops selling souvenir items, fishing supplies, beach gear, toys, clothing, and more.

Watching a live performance or participating in an event
There are always live performances and lively events at the Santa Monica Pier. The highlight each year is Twilight on the Pier, an outdoor music festival featuring performances by some of the top musical acts in the country, as well as art exhibits, food and beverage booths, games, and many other activities.

Other popular events at the Pier include fitness programs, yoga sessions, food festivals, and more.
World-class shopping and dining
Perhaps overshadowed by its exciting beach lifestyle is the fact that Santa Monica is also a shopping and dining haven that can rival the most famous retail destinations like Beverly Hills and Manhattan, NY. Not only is the city a go-to place for beach fashion and supplies, it also has its fair share of luxury boutiques selling the most expensive brands in the world.
Must visit shopping and dining destinations include:
Main Street Santa Monica
Just two blocks from the beach, Main Street Santa Monica is home to a farmers' market, stylish clothing and home interior boutiques, art galleries, and a host of restaurants and coffee shops.
Third Street Promenade
Found at the heart of Downtown Santa Monica, Third Street Promenade is a car-free retail strip stretching three blocks east of the Santa Monica Pier. The main attraction here is Santa Monica Place, a three story open air shopping center housing over 80 retailers, including upscale brands like Louis Vuitton, Nordstrom, Hugo Boss, and many more. There are also dozens of restaurants, cafes, and bars, as well as a weekly farmers' market. In addition to the shopping, Third Street Promenade is also well known for the proliferation of street performers here.
Montana Avenue
If you want a more relaxed shopping experience, Montana Avenue is the place to go. While it's just minutes away from Downtown Santa Monica, the ambience here is less hurried and much more relaxed. This is why it's the choice of many A-listers and families, and on any given day, you may notice more than one celebrity frequenting Montana's establishments. This retail strip features over 150 shops and restaurants featuring a wide array of specialty goods and cuisines.
Real estate in Santa Monica
As one of the most sought-after communities in Southern California, real estate prices in Santa Monica have consistently been rising over the years. As of December, 2021, the average home sale price in the city was $1.9 million. Home values are up 4.6% over the past year, and up nearly 96% from 10 years ago.
The housing stock in Santa Monica is as diverse as the city itself. You'll find single-family homes, condos, townhomes, and multifamily homes, all coming in a wide range of prices and sizes.
There are quite a few multimillion dollar homes, many of which are priced above $10 million, featuring contemporary architecture, the latest smart amenities, expansive indoor and outdoor living spaces, and top of the line finishes. There are also plenty of traditional bungalows with spacious interior spaces and large yards, perfect for families in various stages of their lives.
Condos and multifamily homes outnumber single-family homes, as one may expect in a bustling urban center like Santa Monica. Ranging from affordable to ultra-luxurious, these properties are perfect for individuals and families who are always on the go or are looking for relatively more affordable options to single-family homes.
While contemporary is a popular design style in the city, you'll also find a number of mid-century architecture, as well as Spanish Revival, Colonial, ranch, cottage, and more.
The best neighborhoods to look for homes in Santa Monica
You can enjoy the many perks of living in Santa Monica no matter where in the city you choose to stay. However, certain neighborhoods are standouts for a number of reasons.
These are some of the best communities to live in Santa Monica.
Downtown Santa Monica and Ocean Avenue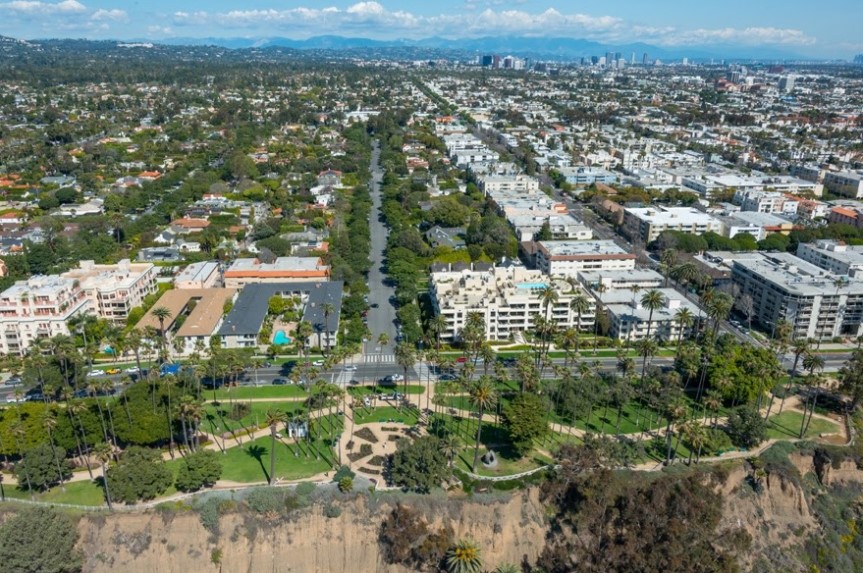 If you want the best access to the many urban amenities in the city while staying close to the beach, Downtown is the perfect choice. The best shops, restaurants, and entertainment are mere steps away, while the beach and Santa Monica Pier are practically at your doorstep.
Condos are the predominant housing stock in the downtown/Ocean Avenue area. These include luxury properties featuring the best ocean views in the city, state-of-the-art finishes, and upscale amenities such as swimming pools, fitness centers, 24-hour security, and more.
Wilshire-Montana
Wilshire-Montana is a residential community located northeast of the Downtown area, just minutes from the beach. It offers great access to some of the top schools in the city, as well as to excellent parks and outdoor recreational areas, such as Christine Emerson Reed Park, where you can find tennis courts, a basketball court, and a play area for kids, as well as Ocean Avenue & Palisades Park where you can take walks, run, or cycle overlooking the beach and the Pacific Ocean.
Homes in the Wilshire-Montana area include single-family homes, condominiums, and multifamily properties. Although not considered affordable any longer, there are some rent-controlled properties still around. You will find character apartment buildings, newer luxury condominium and townhome developments, and north of Montana, primarily single-family homes.
On tree-lined La Mesa and ocean view Adelaide, without a doubt the prettiest streets in all of Santa Monica, you will find stunning architecturally significant and interesting homes, some of which border The Riviera Country Club and overlook the Pacific Ocean.
Palisades Beach Road
One of the most prestigious addresses in Santa Monica, Palisades Beach Road is a waterfront development with gorgeous contemporary and turn-of-the-century Spanish, cottage, and French architectural homes that open to the ocean. The neighborhood is home to celebrities and A-listers, and offers fantastic access not only to the beach but the city's top destinations, such as Third Street Promenade, the Downtown area, farmers' markets, and more.
Property prices in Palisades Beach Road are typically in the multimillion dollar range, with some listed at over $10 million.
Sunset Park
Sunset Park is a tranquil residential neighborhood with a suburban feel and a great location, making it one of the most desirable communities for living in Santa Monica. Just a short distance from the beach, Sunset Park features top-rated schools and neighborhood parks, including the nine-hole Penmar Golf Course, Penmar Park, and Marine Park.
Real estate in Sunset Park is made up primarily of relatively smaller single-family homes and multifamily homes, a reflection of its original design as a housing development for workers at the Douglas Aircraft Factory. These homes have been excellently updated over the years and now come with list prices of at least $1.6 million to $2 million.
Ocean Park
Ocean Park is a historic oceanfront community that has become one of the most sought after neighborhoods in Santa Monica. Found south of the Santa Monica Pier, it offers great access to the beach, as well as to significant destinations in the area, such as Venice Beach – its southern neighbor, the Santa Monica Airport, and Santa Monica Main Street.
Homes in Ocean Park are a mix of various property types, including single-family homes in a wide range of sizes, prices, and ages, as well as condos and multifamily properties, which are the predominant housing types in the community. Highly appreciated and desirable, historic turn-of-the-century Craftsman homes are the primary architectural style.
Santa Monica Canyon
This historic and picturesque community is located just north of Santa Monica. Facing the Pacific Ocean and surrounded by imposing canyon walls, Santa Monica Canyon has been the scene of unforgettable Hollywood moments and the site of cutting edge 1920s/1930s architecture, much of which has been excellently preserved to this day. The community also features the historic Rustic Canyon Park and is home to the prestigious The Canyon Charter School.
Referred to simply as "The Canyons" by residents, the neighborhood today features architecturally significant homes from past eras, including 1920s and 1930s moderne and Mediterranean villa homes, as well as rustic and Spanish Colonial-style homes. There are quite a few new construction properties built in the contemporary style as well.
Learn more about living in Santa Monica with Nili Hudson
Explore the amazing life that awaits you in this Southern California gem and find the home that's the perfect match for you and your family. Get in touch with Nili Hudson, your best guide to real estate in Santa Monica, Brentwood, Pacific Palisades, and the rest of Los Angeles.
With over 30 years of experience selling on Ocean Avenue and the Westside of Los Angeles, Nili has the expertise to help you find the perfect spot. Whether you're looking for the best home or seeking to sell a property at the highest price, Nili will go the extra mile to make sure you achieve your real estate goals and have an enjoyable experience along the way.
To Nili, living well is everything, and she is willing to go above and beyond so you can live your best life in Los Angeles, the beautiful place she calls home.
Call her today at 310.486.0807 or send an email to nili(at)nilihudson(dotted)com to get started.