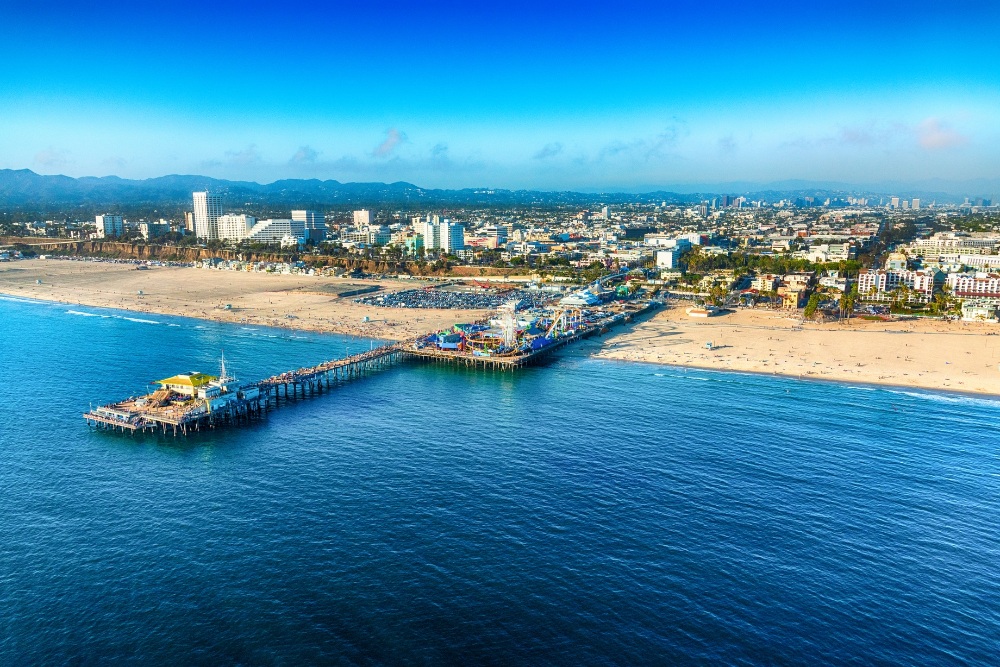 The beachside city of Santa Monica attracts countless tourists and new residents every year with its relaxing coastal setting, pleasant climate, and diverse mix of neighborhoods, commercial districts, attractions, and recreational venues.
Originally envisioned as a railway town, early city leaders pivoted and developed Santa Monica as a recreational destination instead due to its superb seaside location and the rising popularity of amusement piers in the early 20th century.
Today, Santa Monica is home to a growing population of over 93,000 and is known for its exceptional quality of life enhanced by steady economic growth, top-rated schools, world-class healthcare facilities, and prime location close to downtown LA.
All of these elements combine to generate high demand for properties in Santa Monica, making it an excellent option for real estate investors.
If you're thinking about investing in the Santa Monica real estate market, here's where you'll get a closer look at the dynamic coastal city of Santa Monica. You'll find an overview of the city, get info on current trends in the local market, read about the types of properties available, and discover exactly why Santa Monica is the best choice for your next real estate investment.
Santa Monica at a glance
Location
Santa Monica is situated in western Los Angeles County, about 15 miles west of downtown LA. The coastal city is nestled on a mostly flat slope that angles downwards to the south.
The beachfront city is bordered to the west by Santa Monica Bay, Pacific Palisades to the north, Brentwood and West Los Angeles to the east, and Venice to the south.
Santa Monica's prime location puts residents minutes away from many of Southern California's best attractions and cultural destinations like Venice Beach, Universal Studios Hollywood, Disneyland, the Los Angeles County Museum of Art, and Beverly Hills' iconic Rodeo Drive.
Climate
Santa Monica features a coastal Mediterranean climate, offering near-perfect weather, excellent for those looking forward to enjoying the best of the Southern California lifestyle.
The city gets an average of 310 sunny days and only about 14 inches of rainfall each year, offering plenty of opportunities to spend time outdoors and explore its wealth of attractions and destinations.
Getting around
With a total area of just 8.3 square miles, you'll be able to reach any place you need to go to in Santa Monica after a quick walk or bike ride. Many streets have wide, pedestrian-friendly sidewalks, and the city features miles of bike lanes for those who want to navigate on two wheels. Many places throughout the city offer bike rentals like Perry's Café and Rentals which has nine locations in Santa Monica.
And while everything is virtually a quick stroll or bike ride away, Santa Monica is still equipped with an efficient and accessible public transit network that operates the Big Blue Bus, Metro Expo Line, and Santa Monica Circuit. The city's convenient access to the Interstate 10 and California State Highways 1 and 2 makes it easy to reach neighboring cities as well.
Education
Public schools in Santa Monica are administered by the top-rated Santa Monica-Malibu Unified School District which serves over 9,200 students from transitional kindergarten through 12th grade. Some of the top-rated schools in the city are Santa Monica Alternative, Canyon Charter Elementary, Lincoln Middle School, and Santa Monica High School.
Santa Monica is also home to Santa Monica College, a public community college accredited by the Western Association of Schools and Colleges. Known as one of the most affordable institutions of higher education in the world, Santa Monica College leads all of California's community colleges when it comes to transferring students to prestigious four-year campuses including Loyola Marymount University, University of California, and University of Southern California.
Economy
Santa Monica is home to the headquarters of many prominent media and entertainment companies such as Beachbody, Hulu, Illumination, Lionsgate Films, Miramax, Otter Media, Saban Capital Group, and The Recording Academy.
Several highly successful game development studios such as Activision Blizzard, Cloud Imperium Games, Naughty Dog, PUBG Corporation, Super League Gaming, and Treyarch are also based in Santa Monica, making it a premier location for the videogame industry.
In recent years, the city has emerged as the center of Los Angeles' "Silicon Beach," a tech-driven region that's home to numerous venture capital-funded startup companies.
The lifestyle
While many cities located along the Pacific Coast Highway may feel too secluded or a little too bohemian, Santa Monica has that perfect balance between a relaxed beach town and cosmopolitan urban charm.
It's a city that's upscale, hip, and lively, and the views are nothing short of spectacular. Beyond its famous attractions, there's so much more to this picturesque coastal city, including a booming economy, top schools, convenient access to major freeways, and plenty of dining and entertainment options. All this provides a high quality of life for residents.
Outdoor recreation
With its pristine sun-kissed shores, plethora of recreational activities, and access to an array of shops, restaurants, hotels and attractions, Santa Monica Beach is the quintessential Southern California beach. The beach is located north and south of the Santa Monica Pier, making it one of the most popular tourist attractions in the city.

In addition to its world-famous beach, nature lovers in Santa Monica also get access to other excellent outdoor recreational venues such as Oceanview Park, Palisades Park, Tongya Park, Will Rogers State Beach, and the expansive Santa Monica Mountains National Recreation Area, which features a vast network of over 500 miles of hiking trails, together with many historical and cultural attractions.
Santa Monica's real estate market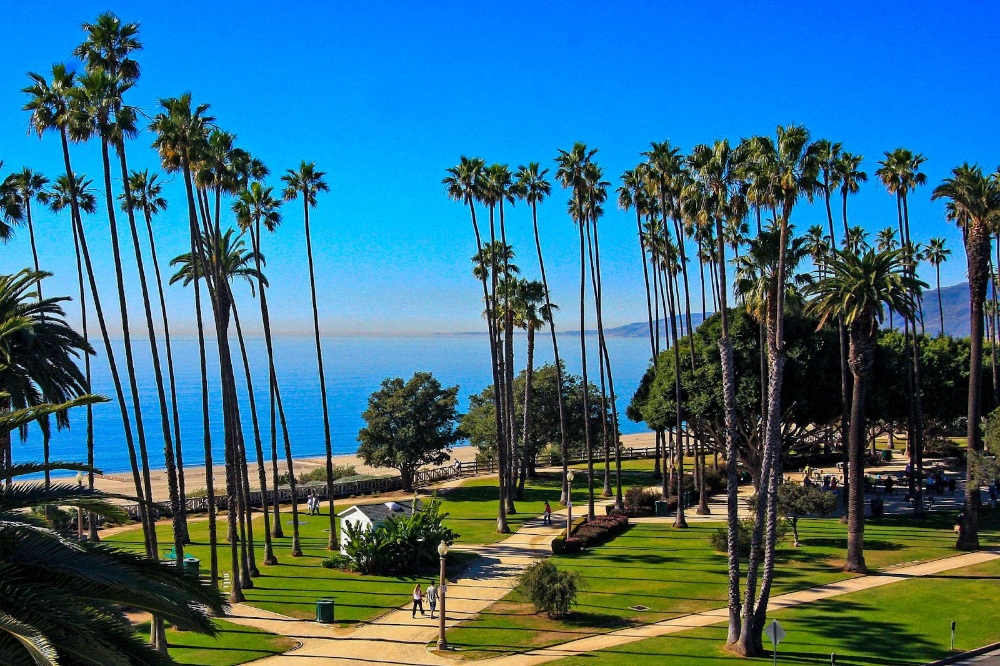 Santa Monica real estate market trends
With Santa Monica's impeccable weather, laid-back oceanfront setting, proximity to downtown LA, and array of incredible attractions, it's no wonder why the city ranks at the top of Niche.com's list of Best Suburbs to Live in California.
It's also why the Santa Monica real estate market commands high prices, with typical home values currently at $1.8M. Investing in Santa Monica, however, also means greater opportunities to yield generous returns. Property prices in Santa Monica have more than doubled in value over the last 10 years making the area an excellent choice for real estate investors.
Types of homes in Santa Monica
The Santa Monica real estate market offers a vast array of options for any type of home buyer or investor, from low-maintenance condos, spacious single-family homes, to luxurious waterfront properties and more.
Here's a quick look at the types of properties available in the Santa Monica real estate market.
Single-family homes
Single-family homes for sale in Santa Monica are typically priced from around $1.1 to $4 million and are available in elegant architectural styles such as Mission Revival, Mid-Century Modern, Victorian, and a variety of Contemporary styles. Most of the homes are equipped with a range of upscale features such as gourmet kitchens, seamless indoor-outdoor living spaces, home offices, and oversized bedrooms with walk-in closets.
Single-family homes are an excellent choice for buyers looking for a more suburban environment, as many of them are located further away from Santa Monica's busier downtown district and offer better access to top schools.
Typical single-family homes have around 2,000 square feet of living space and have four bedrooms and three bathrooms.
Condominiums
Santa Monica features an excellent selection of condos ideal for those looking forward to a more maintenance-free lifestyle. Condos are more affordable as well – many of them have prices that are in the mid-to-high six figures, well below the price range of most single-family homes in the area.
Most Santa Monica condos that aren't located along the beach are typically priced around $950,000. In prime locations such as Ocean Park Boulevard and Downtown Santa Monica, however, prices for condos can range from around $1.5 to $3.5 million. In addition to breathtaking views, luxury condos in the area come with a variety of upscale recreational amenities such as fitness facilities, spas, swimming pools, meeting rooms, and direct access to the beach.
Apartments
For those looking to test the waters in Santa Monica with a rental before fully committing to a purchase, a great selection of apartments is also available. You can find apartments in almost every part of the city, save for a small section north of the Montana area.
Some are available to rent for as low as $1,500 a month, although these are extremely rare and almost exclusively studio units. Typical monthly rents are around $2,650 a month for one-bedroom units. High-end luxury units with more space can cost around $6,000 to $10,000 a month, especially for those located close to Downtown Santa Monica and the beach.
Luxury homes
A wide variety of stunning luxury homes are available for those looking forward to an unparalleled lifestyle in Santa Monica. These exceptional properties can cost from around $6 million to more than $20 million and are often highlighted by panoramic oceanfront views.
Many luxury properties in Santa Monica are located around Montana Avenue, the coastal city's most coveted neighborhood. These palatial homes offer a seamless balance of privacy, comfort, and style and are equipped with exceptional upscale features such as lush manicured yards, resort-style swimming pools, and some come with views of the ocean.
Income Properties
For those looking to acquire an income property, there is a wide range to choose from. The average income property is priced at around the $3M mark. At the high end where you're looking at much more space and a more desirable location, properties go for around $9M. These properties spend on average 56 days on the market.
Typical Gross Rent Multiplier (GRM) is 18 GRM. This is an approximation of how many years it will take to recoup the initial investment. Though this GRM errs on the higher value, it is an indication of how desirable properties are in the area. This desirability goes some way to ensure that vacant time is kept to a minimum.
Santa Monica's neighborhoods
Although Santa Monica encompasses less than nine square miles, the city is home to eight distinct neighborhoods each with its own unique charm and character.
Downtown Santa Monica is home to the city's highest concentration of shops, restaurants, hotels, and entertainment venues. Two of the city's most popular shopping and dining destinations are located right here: Santa Monica Place and Third Street Promenade.
Montana Avenue is an affluent residential area that features some of the most luxurious homes in Santa Monica. It's also a well-known shopping destination, with its massive ten-block stretch featuring rows of luxury boutiques and high-end fashion stores.
Ocean Park Boulevard has a relaxed bohemian charm created by its array of locally owned cafes, eateries, boutique art galleries, and independent shops. The neighborhood is home to the Santa Monica Municipal Airport and the Museum of Flying.
Main Street has a very cosmopolitan yet laid-back feel with its numerous art galleries and restaurants featuring delicious cuisine from all over the world.
The Pier Area and Ocean Avenue boasts some of the most breathtaking ocean views in the city and is Santa Monica's top entertainment destination. This area is home to the iconic Santa Monica Pier and Pacific Park, one of the most popular family-friendly attractions in Southern California. The Pier Area also features a vibrant assortment of luxury hotels, high-end condominiums, restaurants, and open-air bars.
Mid-City, the city's furthest inland neighborhood, features a vibrant assortment of arts and entertainment venues including Bergamot Station Arts Center, which is home to the largest collection of contemporary art in Los Angeles.
Wilshire Boulevard is a popular neighborhood for many families as it features easy access to top outdoor recreational venues like Palisades Park and Douglas Park. The neighborhood is also a stone's throw away from the array of shops, restaurants, and leisure venues at Third Street Promenade.
Why invest in the Santa Monica real estate market?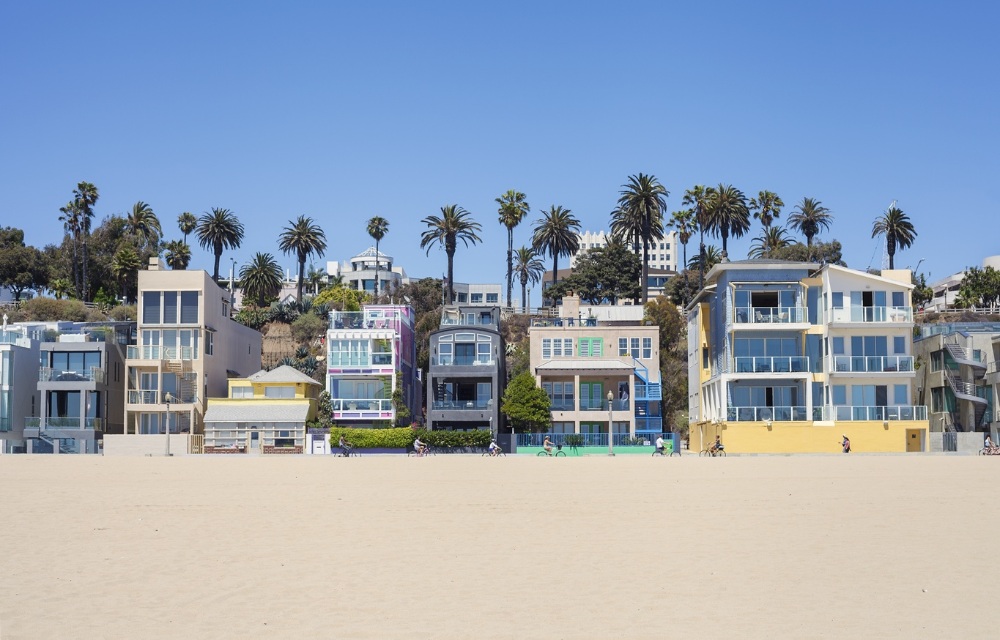 The vibrant seaside city of Santa Monica is famous for its iconic beaches, storied pier, wide range of leisure destinations, and world-class culinary scene. This is why it's such a sought-after destination, attracting millions of tourists as well as new residents each year.
In addition, Santa Monica also boasts a pleasant year-round coastal climate, a convenient public transportation system, top-performing education and healthcare facilities, and a robust economy.
As a result, the city's properties are highly valued, making the Santa Monica real estate market a desirable choice for investors.
Here are a few of the many reasons why investing in the Santa Monica real estate market is a smart move:
Thriving economy
Santa Monica is part of Los Angeles' "Silicon Beach," which is home to over 500 startups and established tech companies. The area's proximity to LAX and the diverse range of industries in LA has made Silicon Beach a prime location for innovative companies looking to put down roots just outside of San Francisco.
Over the years, Santa Monica's vibrant tech-driven economy has boosted the city's real estate prices and home and office rents, which were already high to begin with due to the city's superb coastal location.
In addition to its bustling tech sector, other top industries are tourism, retail, and scientific services, which is partly why Santa Monica residents are wealthier than average, and have more spending power for real estate. This allows real estate investors to select from a large pool of employed tenants.
Constant home buyer activity
Santa Monica attracts a consistently increasing number of prospective home buyers due to its prime location, vibrant tech center, and job market growth.
Homes in Santa Monica sell after 38 days on the market on average, which indicates steady buyer activity. Overall, the Santa Monica real estate market is a solid choice for investors.
Stellar tourism industry
In 2019, tourism in Santa Monica generated $1.89 billion for the local economy, and there are currently over 12,600 jobs supported by the city's tourism industry. As a result, those planning to invest in short-term rentals will be able to look forward to substantial profits year-round.
Invest in the Santa Monica real estate market today with Nili Hudson!
If you're ready to begin your search for the perfect investment property in Santa Monica, Nili Hudson is here to help you navigate this exciting real estate market.
With her years of experience and expertise in the industry, Nili is part of the Top 1% of all real estate agents nationwide, earning her a spot in The Wall Street Journal's list of "America's Best Real Estate Professionals."
When navigating the Santa Monica real estate market, property investors and buyers searching for their dream home will be hard-pressed to find a more skilled, capable, and reliable professional to have at their side than Nili. She possesses a bone-deep knowledge of the market that encompasses all key factors such as pricing trends, inventory, and the type of lifestyle offered by each unique neighborhood, allowing clients to fulfill their real estate goals with ease.
Get in touch with Nili Hudson today to find the finest selection of properties available in the Santa Monica real estate market! You can get in touch with Nili at 310.486.0807 or by sending an email to nili(at)nilihudson(dotted)com