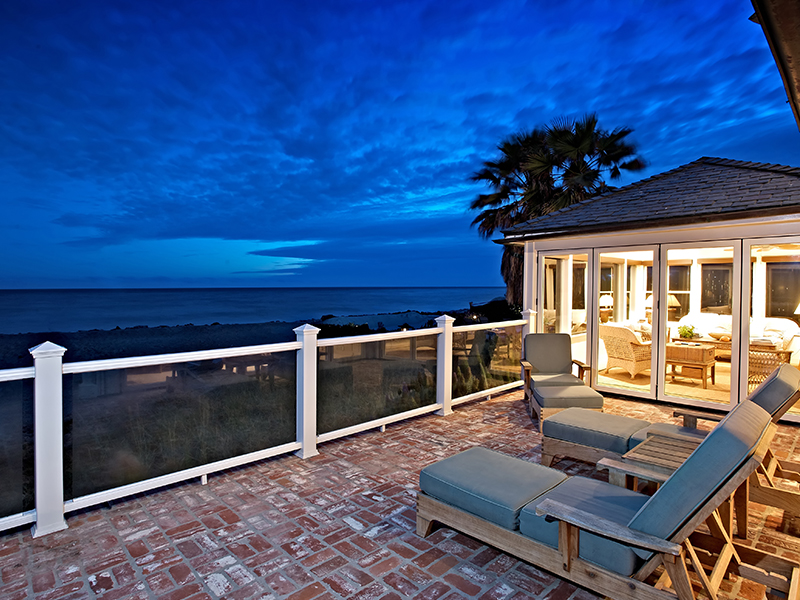 Some in Los Angeles prefer living close to the heart of the downtown area or in relative seclusion on a hilltop enclave. However, others gravitate towards the cool ocean breeze, easy atmosphere, and priceless sunset views that surround beachfront homes. Another draw to these waterfront properties is that they make great second homes. With beachfront real estate in LA known for its strong appreciation over time, it's certainly a solid investment. 
Beachfront properties are valued significantly higher than the vast majority of non-waterfront homes. Studies have shown that unobstructed ocean views can add as much as 58% to a home's overall value. Even if the property is about a mile or more away from the water, there are still noticeable value increases of about 30% to 44%.
If this sounds like a fantastic real estate opportunity, we won't argue, but before you start exploring your options, let's have a look at some important considerations that come with investing in a beachfront property in LA. 
Think carefully about why you want to invest in a beachfront home

There are a number of reasons why someone would purchase a home by the water. For second homeowners, it can serve as a vacation house for holidays and special occasions. Enterprising owners may want to lease out the property full-time or during certain stretches of the year. Others may just love the idea of making a beachfront home their main residence.

Will you visit the property a few times a year, while it's mainly used as a short-term rental? Or, will the property be the primary residence for you and your family? Following on from this, do the activities around the area align with your lifestyle? While a beach home may appeal for a short period of time, such as during a vacation, would you soon tire of the lifestyle?

Nobody can ever really be 100% sure when they move into an area, if it will be a dream move, we can only hope. However, if you've lived in a beachfront home before or you find yourself very content when you've visited, it's more than likely that you'll love living by the beach.

Take stock of the property and surrounding area IRL (in real life)

It's quite easy nowadays to shop for homes through your phone or computer. One Google search will show you more than a handful of results and you can refine the search specifically for beachfront properties. But this initial search will never be able to give you the full picture or feel of the place.

Before making any firm commitments, make it a point to see the unique features of the property and the surrounding beachfront with your own eyes. Doing so will help set your expectations and help inform your negotiations with the seller.

You may notice, for instance, that the beach gets crowded during particular times of the day. Or, areas of the front-facing portion of the home have suffered significant salt air corrosion. This knowledge can potentially secure concessions from the seller and get them to address existing problems before or as part of a contingency on a bid. 

Lastly, examining the surrounding area will give you a good feel of what it's like to live there — whether you're planning to stay full-time or for just a few weeks every year. Walk around the neighborhood and chat to residents if you can. Ask questions you may have about their experience living in the area and what goes on in the community. There's no one better than a local to answer your questions.

Know what to expect in the local real estate market

LA homes already command premium pricing. As of writing, the median listing price is just over a million. But when it comes to a beachfront real estate investment, buyers can expect to spend extra. Properties along the coveted LA shoreline can easily come with multi-million dollar price tags

In Santa Monica, for example, prices range from a relative low of $1.5 million to as high as $22 million. Neighboring Marina Del Rey has a few beachfront properties that are typically priced between $1.2 million and $8 million. Playa Del Rey's offerings usually range from $2 million to $7 million.

You'll find a good mix of home types as well, from swanky modern condos to exceptionally spacious single-family estates that come in a range of styles (Craftsman, contemporary, Mediterranean).

To stay up-to-date on pricing and local real estate trends, it's best to get in contact with an experienced local agent who can show you around the neighborhood.

The financial implications of owning the property

Beyond the home price, there are other costs that you should keep in mind with a property investment by the beach. These costs usually range from special tax assessments and insurance policies to renovation and development costs. Here's what you need to know:

Taxes, development costs, and special permits

Tax assessments for a beachfront property are usually higher when compared to the average home. The exact amount of tax you'll need to pay off will depend on your location on the shoreline and the specific features of the property in question. Also, bear in mind that if the home is rented out for more than two weeks in a year, any rental income you earn will be taxed accordingly.

If you wish to add more features to the property, you'll also need to secure the proper permits from local authorities, especially the California Coastal Commission. Renovating and demolishing an existing structure or building an additional amenity facing the beach will likely need prior approval.

Insurance for secondary homes

If you're already a homeowner and you're buying a second property, your first insurance policy may not give sufficient coverage. Check your existing policy plan and contact your provider for clarifications. You'll most likely spend extra to get a separate policy that's appropriate for a waterfront property.

In most cases, getting a new policy is the best course of action because it will be best suited to address the distinct risks that come with a property so close to the ocean. When you're exploring the best policy on a beachfront property, make sure you're insured against the following:

Fire – Any property that won't be occupied full-time during the year should be well-protected against fire. There may be significant lengths of time when the home may be vacant, so if disaster strikes you'll need the right coverage.

Flooding – For any property that's close to a body of water, it's wise to prepare for the worst. Even if your area isn't identified as a high-risk area for flooding, it's always worthwhile to get that additional protection. You'll usually have to acquire flood insurance as a separate policy.

Earthquakes – With its close proximity to the San Andreas Fault Line, LA is known to be earthquake-prone. To be on the safe side, earthquake insurance would be prudent. That being said, while an area may be included in a list of earthquake advisories, it doesn't automatically mean that there is a need to be overly alarmed. State and local agencies, as well as, developers have been building and updating structures based on the latest innovations in seismic risk reduction and the fact that the area is so popular is a testament to how safe it is from seismic activity.

Theft – Since secondary homes and vacation properties are mostly left unoccupied for extended periods (unless you employ a caretaker), this means there is a greater risk of theft.

Additional expenses

First-time waterfront property owners should also be aware of additional fees and expenses that are not immediately obvious, such as:

Fees for local beach conservation efforts

Repair and maintenance costs for erosion control measures

Upgrading or repairing local drainage systems

Population control of invasive plant and animal species

Advertising and property management costs for rental properties

Degree of privacy may be a concern

The ocean and huge swathes of the coastline are considered public property. This means that investing in a beach property will naturally entail a degree of living in public. Beachgoers from other neighborhoods, as well as a variety of tourists, are well within their rights to enjoy the beach where they live — even though there are only a few paces between public land and your ocean-facing patio. 

On most days this isn't a problem, but the summer and public holidays are likely to bring a number of people to LA's scenic shoreline.

The California Coastal Commission is the local body in charge of delineating between private and public spaces in these settings. Rather than sticking to a clear-cut dividing line, the rules adjust depending on how the tide comes in — which can vary drastically throughout the seasons.

For beach houses, building sturdy fences and planting tall hedges surrounding the property  come in handy. It may also be wise to examine beachfront condo developments in the area. Condo owners usually won't have too much to worry about since these types of properties have top-tier security personnel guarding the premises 24/7, in addition to comprehensive CCTV monitoring.

Minimize the effects of the elements

A beachfront location or even one that's situated just a few blocks from the shore exposes your property to the elements. Potential beach property investors shouldn't overlook the prep and maintenance work that's required to keep the premises in good condition. Here are key areas you should keep in mind:

Remove sand from patios and outdoor spaces. While a little sand here and there won't hurt, leaving sand debris for extended periods can potentially damage materials and floor finishing in your outdoor space. It's essential to regularly sweep off the sand from these areas.

Protect outdoor furniture. Make sure that the furniture you put in areas exposed to the outdoor environment has some degree of weather resistance. High-density polyethylene (HDPE), teak, and aluminum builds are good options to consider. Invest in weatherproof covers as well for that added layer of protection. For peace of mind, bring furniture and fabrics inside when the weather becomes too sunny or if it rains heavily. 

Reduce the effects of salt air corrosion. Homes close to the beach are frequently exposed to moist air that contains trace elements of salt. This phenomenon, called salt air corrosion, damages and leaves deposits on a number of surfaces and materials, including metal, wood, and concrete. Applying sealants and coatings can shield your furniture and outdoor areas from their harmful effects.

Thoroughly examine the home. September and October is a great time to go around and see if there are areas that have been hardest hit by the elements. Repaint faded areas, caulk any cracks, and inspect the seal on the deck or patio.

Explore Santa Monica beachfront condos

Santa Monica Pier-Brendan Dekora

For buyers looking for a beach property investment without too much hassle, a beachfront condo may prove a great option. It would be a fairly straightforward purchase and any maintenance work or upgrades down the line can be quickly sorted with the help of the condo's property management team. Most of the time, this is just a usual expectation of their role and duties and owners need not worry about maintenance or repair.

In Southern California you'll find an extensive selection of premium condominium properties from Malibu down through Santa Monica, Venice, Marina Del Rey, Playa Del Rey and the South Bay. In Santa Monica in particular, you'll find exquisite condo properties, with five-star amenities along palm-tree-lined Ocean Avenue and Palisades Park. In Marina Del Rey and Venice, you'll be directly on the sand with the ocean waves lapping at your feet and a more casual way of life. With all of these areas, you will enjoy a lifestyle that dreams are made of.

If you're seriously considering purchasing a home or income-generating property in the area, get in touch with top-producing agent Nili Hudson. Nili is a proven expert when it comes to luxury properties in LA. Her deep knowledge of the local market and the special concerns that affect waterfront homeowners make her one of the best agents to work with.
You can contact her at
310.622.7422
or send her a message
here
to book a private real estate consultation.