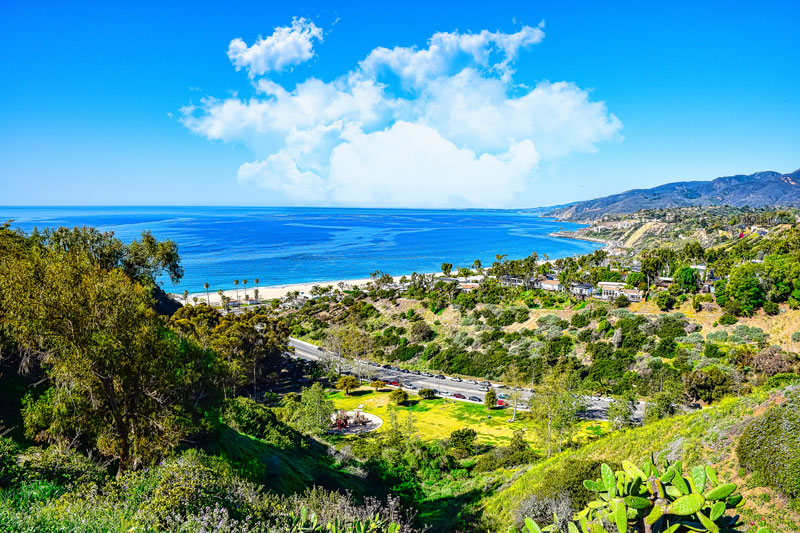 Pacific Palisades and Brentwood, CA are fantastic locations that offer residents picturesque locales, sprawling luxury estates, and a sense of privacy that is only enhanced by being in a great community. Add to this the fact that there are so many things to do in Pacific Palisades and Brentwood, CA, and it's easy to see why these are two of the most popular neighborhoods in LA.
Pacific Palisades is a coastal community in Los Angeles' Westside region and one of the most sought-after locations to live in. Situated in between the Pacific Ocean and the Santa Monica Mountains, Pacific Palisades is rich in natural beauty.
Just as delightful, Brentwood is set at the foot of the Santa Monica Mountains. Once part of a Mexican land grant, Brentwood started its development as a residential neighborhood in the 1800s and has now become one of Los Angeles' most affluent communities. Quiet and peaceful, Brentwood is a welcome change from the urban noise of Los Angeles.
Residents and visitors to Pacific Palisades and Brentwood, CA are spoiled for choice for things to do, and here we'll show you just some of the most popular attractions these neighborhoods have to offer.
Table of Contents
Explore the outdoors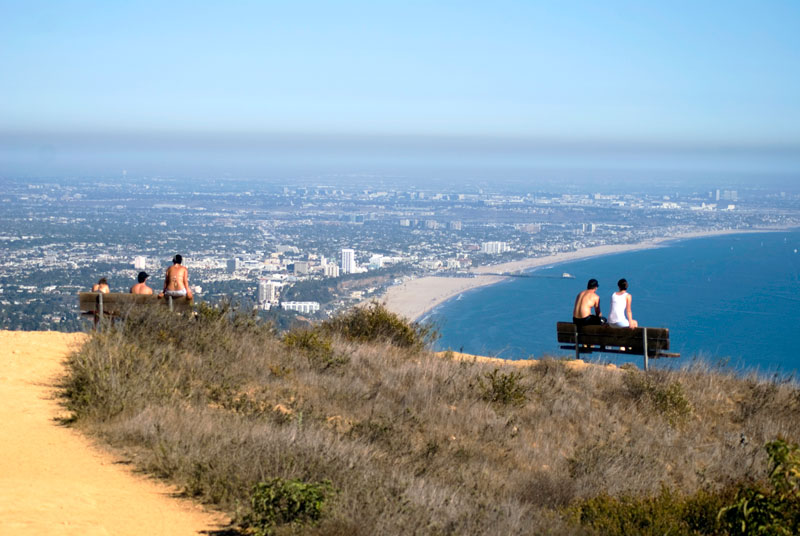 Pacific Palisades and Brentwood enjoy a Mediterranean climate, the perfect weather to energize yourself and explore the great outdoors.
These are the area's top outdoor spots:
A popular park in Pacific Palisades, Temescal Gateway Park covers 141 acres and offers a multitude of trails to explore. Along your hike, you'll be greeted with beautiful views of the Pacific Ocean, Temescal Canyon, and the surrounding mountains. You can also access other parks like the Will Rogers State Historic Park and the Topanga State Park via these trails.
As you explore Temescal Gateway Park, don't forget to check out Skull Rock. Located along the Temescal Ridge Trail, this impressive geological formation is worth the challenging hike. The Temescal Ridge Trail is a 4.6-mile hike with an elevation of 1,675 feet.
For a short and scenic hike, make your way to the Los Leones Canyon Trailhead in Topanga State Park. Starting in Pacific Palisades, the trail is 1.3 miles with an elevation of 543 feet. The trail can be a challenge due to the slight incline, but the view overlooking the city and the ocean are more than rewarding. During the hike, make sure to wear a hat and put on sunscreen. The shade can be limited since most of the trail is exposed.
Crestwood Hills Park in Brentwood
Tucked away in Brentwood, Crestwood Hills Park is a great spot to enjoy the outdoors with family and friends. This hidden gem has an abundance of amenities like picnic areas, playgrounds, basketball courts, and baseball fields. If you plan on bringing your four-legged friends along, there's a dog park right next to Crestwood Hills Park.
Hit the beach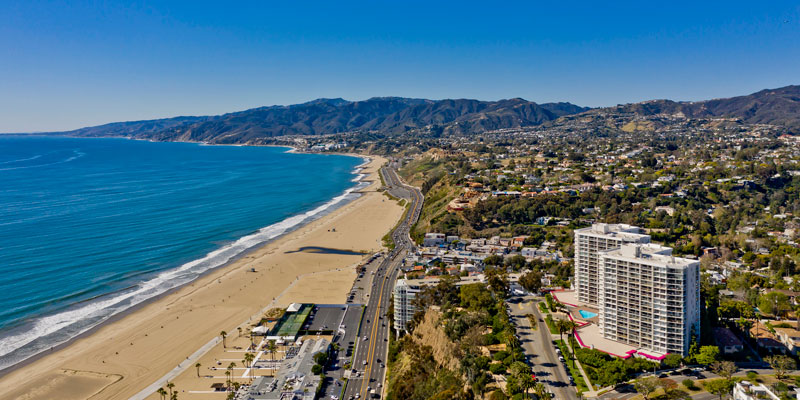 If you love the beach, there'll always be something for you to do in Pacific Palisades. Los Angeles is known for its world-famous beaches and Pacific Palisades is home to some of the best. Whether you're in the mood to catch some waves or simply bask under the sun, these are the Pacific Palisades beaches that you should check out:
The beaches in Los Angeles are a top attraction, drawing in huge crowds of beach goers from all over. But if you're looking for a coastal spot that's quieter, Pacific Palisades has the perfect beach for you.
Will Rogers State Beach has all the qualities of a coastal destination, minus the crowds. Its calm waters, 3-mile stretch of white sand, and stunning ocean views are just a few of the many reasons why this area is a local favorite. There's plenty to do in Will Rogers State Beach, from fishing to surfing. Amenities include volleyball courts, playgrounds, and picnic tables.
Located at the northernmost portion of Will Rogers State Beach, Sunset Beach (which is also known as Sunset Point Beach) is Pacific Palisades' own surfing spot. The area is a favorite among beginners because of its slow and sectioned waves. Even non-surfers will enjoy the fantastic views that Sunset Beach has to offer.
There's no shortage of dining options around Sunset Beach. Gladstones Restaurant, in particular, is a well-known establishment that serves delicious seafood dishes. If you plan on heading down to Sunset Beach, make sure to go early since parking spots can be limited.
Castle Rock Beach
A hidden gem in Pacific Palisades, Castle Rock Beach is quiet, peaceful, and offers spectacular views. The scenery here is unmatched, with the Pacific Ocean on one side and the Santa Monica Mountains on the other. Castle Rock Beach is an ideal spot to watch the sunset or have a picnic since it is relatively uncrowded.
Stop by an art gallery or museum
Pacific Palisades and Brentwood are both home to a thriving arts and culture scene. In these neighborhoods, you'll find incredible works of art and get a unique glimpse into the past.
Here are the art galleries and museums that you should add to your list:
Discover over 44,000 works of art at the J. Paul Getty Museum. The museum first started as the private collection of J. Paul Getty, the American oil tycoon. He then dedicated one area of his Malibu residence to housing his extensive art collection and opened it up to the public in 1954. When it outgrew the space in his home, he decided to construct a new building for it.
Today, the museum has two locations: The Getty Center in Brentwood and the Getty Villa in Pacific Palisades.
Brentwood's Getty Center houses a wide variety of artworks, from Medieval paintings to modern sculptures. There's artwork that dates back almost a thousand years, but also contemporary photography. If you'd like to appreciate some of the finest European Art anywhere in the world, The Getty houses rare pieces. The 134,000-square-foot Central Garden, designed by artist Robert Irwin, is an enchanting outdoor paradise filled with colorful plants, stone waterfalls, and abstract artworks.
And you can make a day of it at the Getty, as it provides multiple places to eat and drink. There's the simply named Restaurant, providing a seasonal menu that includes dishes with a strong mediterranean influence. Or head to the Garden Terrace Cafe and enjoy a meal with a fantastic view of the city. If you're keen to just grab a drink or something quick while you're on the go there are also a couple of Coffee Carts in the Museum Courtyard and outside the Restaurant.
The Getty Villa in Pacific Palisades, on the other hand, displays ancient Greek, Roman, and Etruscan art that dates back to the Stone Age. The museum's design and architecture was inspired by Italy's Villa dei Papiri. But don't come just for the art and architecture, you'll also catch theater productions of classic comedies and tragedies from Euripedes to Aristophanes and other playwrights.
Since the 1980s, the Bruce Lurie Gallery has been providing emerging artists with opportunities to achieve mainstream success. One of the artists the gallery has helped is Jean-Michel Basquiat, a cultural icon known for his striking contemporary artworks. Now based in Pacific Palisades, the Bruce Lurie Gallery has a large collection of contemporary paintings, sculptures, and photographs.
Visit architecturally significant homes
Pacific Palisades and Brentwood also have an amazing collection of residential architecture. From Frank Lloyd Wright-designed abodes to Case Study houses, these are the architecturally and historically significant properties that are worth a visit:
An architectural landmark in Pacific Palisades, the Eames House is iconic in its own right. The Mid-Century Modern house was a part of Art & Architecture's Case Study House program, hence its original name as Case Study House No. 8. Among the homes commissioned by the magazine, the Eames House was the most successful. Designed in 1945, the house was constructed by Charles and Ray Eames and features steel beams painted in black, glass panels of various sizes, and wood-block floors.
In 2006, the Eames House was named as a National Historic Landmark.
Located in Brentwood, the George Sturges House is a single-family residence designed by legendary architect Frank Lloyd Wright. It has a Usonian design—a trend created by Wright that combines style, simplicity, and affordability. The home's unique feature is its 21-foot wrap-around deck, which offers panoramic views of the Southern California landscape below.
The George Sturges house is located in the Brentwood Heights neighborhood. Although the home is privately-owned, you can still admire its architectural style from the outside.
Built in 1929, the Parry Residence sports a Mediterranean and Monterey Revival architectural style with its Spanish-style roof tiles, smooth stucco walls, and ornate wrought-iron grills. The Parry Residence, which was designed by architects George Elmore Gable and Stanley Wyant, was one of the first homes to be built in the Huntington Palisades community. The Parry Residence is also privately-owned.
Will Rogers State Historic Park
The Will Rogers State Historic Park is a ranch property that used to belong to Will Rogers, an American vaudeville performer and one of Hollywood's highest paid actors. When he passed, his 186-acre property in Pacific Palisades was turned into a state park.
One of the main attractions in the Will Rogers State Historic Park is his enormous Ranch-Revival house. The house is listed in the National Register of Historic Places and has 31 rooms, 11 bathrooms, and 7 fireplaces. Visitors are more than welcome to tour the house with a guide or on their own.
Head to best shopping and dining spots
When you're thinking about what to do in Pacific Palisades and Brentwood, CA, there's no shortage of quality dining and shopping options in Pacific Palisades and Brentwood. Everything you need is within reach.
Walkable, picturesque, and timeless, Palisades Village is an exceptional shopping district in the heart of Southern California. Palisades Village opened in 2018 and became "L.A.'s star-studded instant sensation."
This vibrant area has around 40 unique shops and restaurants that you can browse. Among the upscale retailers in Palisades Village are Zimmerman, Veronica Beard, Reformation, and Vince. As for recreation and entertainment, Palisades Village has a well-maintained park area and a luxury cinema called the Bay Theater.
Established in 1948, Brentwood Country Mart is a well-known shopping area that offers luxury retailers, organic fare, and curated items . The charming shopping area was designed by architect Rowland Crawford, who envisioned the space to exude a sense of Early America and the English Countryside. Shoppers will find a mix of luxury fashion brands and specialty stores like Christian Louboutin, Hudson Grace, James Perse, and Sid Mashburn.
Known for its elegant interiors and exceptional service, Baltaire offers the ultimate fine dining experience in Brentwood. Whether you're looking to celebrate a special occasion or you'd just like to have a cocktail by the bar, this contemporary restaurant is the perfect venue.
And when it comes to steak, no other restaurant does it better than Baltaire. Your high-end steak choices include dry-aged porterhouse steaks, New York strip steaks, and Japanese wagyu.
England meets sunny California in The Draycott, a vibrant, Pacific Palisades Brasserie that serves as a go-to spot for brunch, lunch, and dinner. Restaurant owners Marissa and Matt Hermer named it after Draycott Avenue in London, the street where they first met. Using the freshest ingredients from local farms and vendors, The Draycott has a wide selection of dishes to choose from.
If you're looking to satisfy your cravings for Japanese food, the Pearl Dragon in Pacific Palisades is your best bet. Established in 2001, the restaurant is committed to providing customers with dishes made from the highest quality ingredients. While everything on the restaurant's menu is a must-try, their avocado crispy rice and their heirloom tomato & tofu salad should be at the top of your list.
Brentood has one of its own Katsuyas, the other locations being in the Bahamas, Hollywood, Florida, New York, and the United Arab Emirates. This is an authentic Japanese experience but reimagined for a western palate. Beautifully presented dishes are as creative as they are delicious.
When you walk into this establishment, you'll be in no doubt that you're in for a refined dining experience. The interiors confidently exude a simple and classic elegance. The menu is both familiar and interesting. Expect classic dishes elevated to perfection.
With an interior decor that is both sophisticated and warm, and food that is wonderfully authentic, Angelini Ristorante is a long time favorite. The pasta is famous here, but you won't go wrong with any of the other dishes. To go with the food is an impressive wine menu and if you would like recommendations, the staff can give very good suggestions on pairings.
For a neighborhood bistro and bar, try Porto Via. Bright and welcoming, this establishment serves breakfast, lunch, and dinner. The menu is familiar but mouth watering, and there are plenty of healthy options that you'll actually want to order.
A favorite among locals and celebrities, Bar Toscana offers an intimate fine dining experience in Los Angeles. The Brentwood cocktail bar has a simple and sophisticated menu that consists of small dishes and entrees inspired by Italian cuisine. The cocktails in Bar Toscana are a must-try. Their menu of original, hand-crafted cocktails include Mexico Picante, Aperol in the Jungle, and The Flying Pig.
Attend an event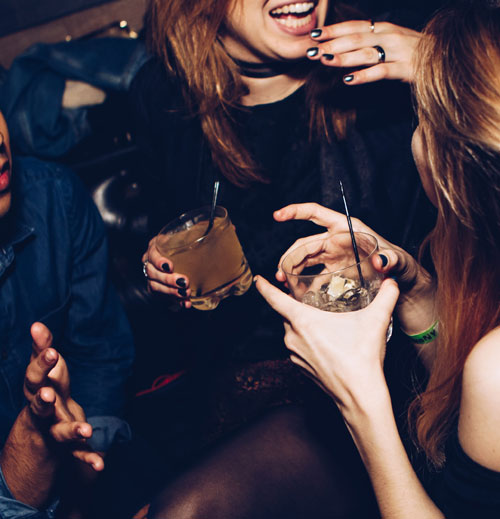 Pacific Palisades and Brentwood also have their own localized events that all the family can enjoy. These are some of the neighborhood happenings you can look forward to:
Pacific Palisades 4th of July Celebration
With its range of exciting activities, Pacific Palisades is one of the best places to celebrate the 4th of July. This annual extravaganza starts with a flyover of WWII fighter planes in the afternoon and ends with a spectacular fireworks show in the evening. Pacific Palisades' 4th of July Celebration also includes a massive parade, live music, a fun run, and a home decorating contest.
Formerly known as the Los Angeles Open, the Genesis Invitational is a prestigious golf event held at the Riviera Country Club in Pacific Palisades. The tournament is a favorite among golf's elite players because of its championship course. The Riviera Country Club Golf Course features well-manicured fairways, kikuyu grass, and gorgeous views. Its signature hole is the 6th one—a bunker square right in the middle of the green.
The Genesis Invitational is typically held in the middle of February.
Getting around Pacific Palisades and Brentwood
Pacific Palisades' main thoroughfare is the Pacific Coast Highway, a world-famous road that runs along California's stunning coastline. Another major street that will give you access to many of the things to do in Pacific Palisades is Sunset Boulevard. This popular route cuts right through Pacific Palisades and makes its way towards downtown Los Angeles.
Brentwood, on the other hand, is located right beside Interstate 405, a major Los Angeles highway that links the northern and the southern parts of the region. Sunset Boulevard also passes through Brentwood, connecting both neighborhoods.
Find the perfect home in or Brentwood
Whether you're searching for a hillside estate overlooking the Pacific Ocean or an exclusive enclave that promises privacy, your dream home in Southern California awaits.
And there's no better person to guide you on your real estate journey than Nili Hudson. With more than 30 years of experience under her belt, Nili is an expert when it comes to Pacific Palisades and Brentwood real estate. Her in-depth knowledge of the local market and personalized services has made her one of the most sought-after Realtors to work with.
Get in touch with Nili Hudson today at 310.486.0807 or feel free to send a message here.