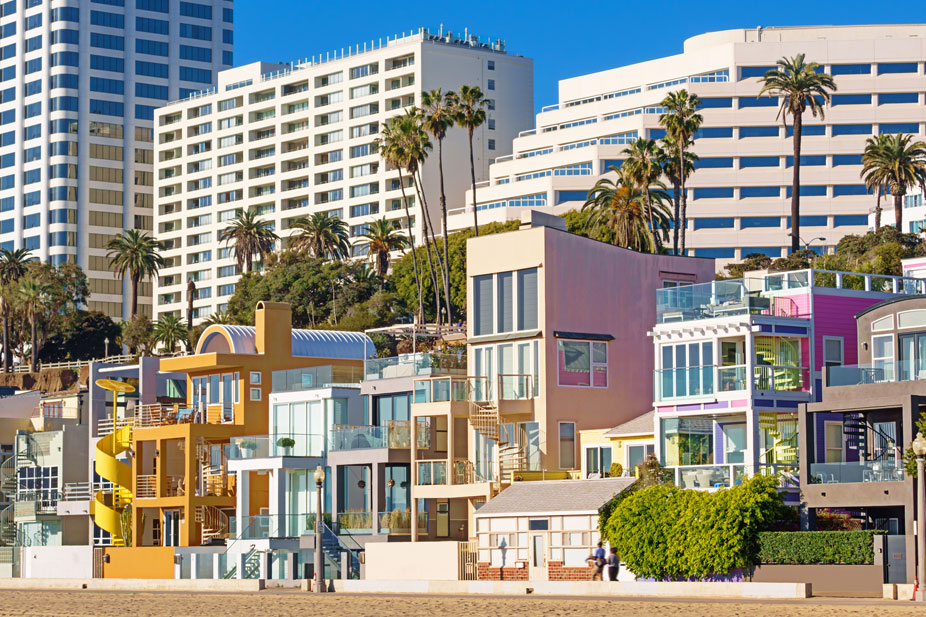 Los Angeles County is widely known for being an architecture lover's paradise. Nowhere else in the country will you find a wide array of styles that coincide with the passing of time and history. It sure helps that the area is also home to some spectacular and notable works from various prominent architects.
But if you're pressed for time, Santa Monica is the perfect place to get a sample of the region's architectural diversity. Although it's only 16 square miles, this iconic coastal city plays host to a cornucopia of architectural designs. You'll find eye candy in every part of the city, from busy Ocean Avenue to the more residential neighborhoods.
Learn more about architecture in Santa Monica below.
Architecture in Santa Monica, CA
Given the city's colorful history, Santa Monica's residential and commercial buildings come in a diverse range of architectural styles, which include the following.
Craftsman
An architectural style that originated in England, Craftsman architecture emphasized a unity with nature. This style is known to place importance on handmade components over cheap mass-produced items.
Widely popular in Southern California in the early 1900s, its grounded philosophy replaced grand Victorian designs and gave birth to California craftsman bungalows.
Houses built in this style often have low-pitched rooflines, gabled or hipped roofs, and overhanging eaves. They also have features such as shaded porches, extensive woodwork, double-hung windows, and tiled fireplaces.
Notable practitioners of this style include Charles and Henry Greene, Ernest Batchelder, and Arthur and Alfred Heineman.
Beaux-Arts
The Beaux-Arts Style is another prevalent style of architecture in Santa Monica. Usually used in government buildings and public spaces, the Beaux-Arts style is characterized by its use of classical Greco-Roman elements such as columns, arches, vaults, and domes.
Buildings built in the Beaux-Arts style also use materials such as limestone, marble, mahogany, alabaster, terrazzo, bronze, and brass. Exterior embellishments for Beaux-Arts structures, meanwhile, often include bas-relief sculptures and glazed terracotta tiles.
Firms and architects who mastered this style include the likes of John and Donald Parkinson, Walker and Eisen, Curlett and Beelman, and Gordon S. Kaufmann.
Beaux-Arts architecture was especially popular in Southern California in the early 20th century up until the 1920s.
Spanish Colonial Revival
One of the most ubiquitous styles of architecture in Santa Monica is Spanish Colonial Revival. An off-shoot of Spanish architecture, this style first became popular in 1915 because of the Panama-California Exposition. Los Angelenos expressed interest with the romance and flair of the style, which draws inspiration from Mission Revival, Mexican, Spanish Baroque, and Islamic or Moorish architecture.
Buildings built in this style are known for their low-pitched red tile roofs, courtyards, and white stucco walls. Other features in this ubiquitous style include painted tiles, wrought-iron accents, and arched windows and doorways. At its height (1920s to 1930s), Spanish Colonial Revival became the favored style among Hollywood heavyweights, starlets, and moguls.
Some of the architects who heavily favored this particular style are Elmer Grey, Myron Hunt, Wallace Neff, Reginald Johnson, George Washington Smith, and Paul R. Williams.
Googie
Any discussion on architecture in Santa Monica wouldn't be complete without talking about Googie. Considered by many to be Southern California's signature architectural style, Googie is known for blending elements of car culture with Jet Age and futuristic aesthetics, making it one of the most unique and eye-catching styles in the region.
In style from the 1950s and 1960s, Googie represented what people thought the future would look like at that time. Many experts also agree the design was symbolic of the high spirits people had, coming out of the World War 2 victory.
Best described as The Jetsons-Meets-Pop Art in terms of aesthetics, Googie buildings and structures often have cantilevered roofs, hard angles, and futuristic styling.
Architects and firms who pioneered the Googie style include Armet and Davis, Martin Stern, Jr., John Lautner, and Pereira and Associates.
Art Deco
Art Deco found fame in Santa Monica and the rest of Southern California in 1925, immediately after the Exposition des Arts Decoratifs in Paris.
Often constructed out of materials like stucco, concrete blocks, and glazed brick, Art Deco buildings have a sleek, linear appearance, made even more distinguishable by features like door and window fluting, and stepped-tray ceilings. Art Deco buildings are also known for their lavish ornamentation which often use geometric forms, intense colors, and exotic patterns as primary motifs.
Architects whose designs predominantly focused on Art Deco include Claud Beelman, Leland Bryant, and John and Donald Parkinson.
Streamline Moderne
Best described as the perfect blend of aerospace engineering, travel, and architecture, Streamline Moderne is an offshoot of the Art Deco style that repurposed industrial aesthetics in buildings and homes. These aesthetics include curving forms, long horizontal lines, and sometimes even nautical elements.
Homes and buildings built in this style often used steel banded casement windows, portholes, curved railings, and chrome accents.
Notable practitioners of this style include William Kesling, Milton Black, and Clarence Smale.
Mid Century Modern
A ground-breaking style created as a response to post-World War II supply shortages, Mid Century Modern buildings are known for two things: its use of inexpensive, mass-produced materials and its emphasis on making functional connections between outdoor and indoor spaces.
Design-wise, Mid Century Modern buildings and homes are characterized by their clean lines, post-and-beam construction, open floor plans, clerestory windows, and walls of glass.
Notable proponents of this functional style include Buff and Hensman, John Lautner, Rodney Walker, Pierre Koenig, Richard Neutra, Craig Ellwood, and Cliff May.
Postmodern
A style that gained prominence from the 1980s to the 2000s, Postmodernism is considered a cheeky response to austere and functional minimalism. Some of its defining characteristics include the use of irregular, fragmentary shapes, bold colors, and unique building materials.
Architects and professionals who mastered Postmodern architecture include Frank Gehry, Roy McMakin, and John Portman.
The most iconic buildings in Santa Monica
Santa Monica is home to a good number of memorable buildings and homes. The following buildings, however, truly stand out in Santa Monica's dynamic architectural landscape.
Completed in 1929, Bay Cities Guaranty Building (also known as the Clock Tower Building) is easily one of the most striking buildings along Santa Monica Boulevard. This white terracotta-clad Art Deco masterpiece, which stands at 12 stories tall, is the highest skyscraper in Santa Monica.
The Bay Cities Guaranty Building was built by architecture firm Walker & Eisen. It was originally the home of the Bay Cities Guaranty and Loan Association until the lending company crashed due to the stock market crisis of 1929. Today, this iconic building now houses an upscale pub and several offices.
Built in 1928 by the architect Max Maltzman, the Charmont Apartments features a perfect blend between Mediterranean and Art Deco, throwing influences of Mission Revival and Spanish Colonial Revival into the mix. The result is an elegant five-storey apartment building that is just as beautiful today as it was back in the late 1920s.
Located in Downtown Santa Monica, the 86-unit Charmont Apartments has since been listed on the National Register of Historic Places, and is considered to be one of the most iconic structures in the city.
Some of its memorable design features include the tiled fountain in the heart of the entrance courtyard, welcoming guests and residents. Also hard to miss are the low-relief panels that feature California Art Deco foliage—an homage to Southern California's unique flora.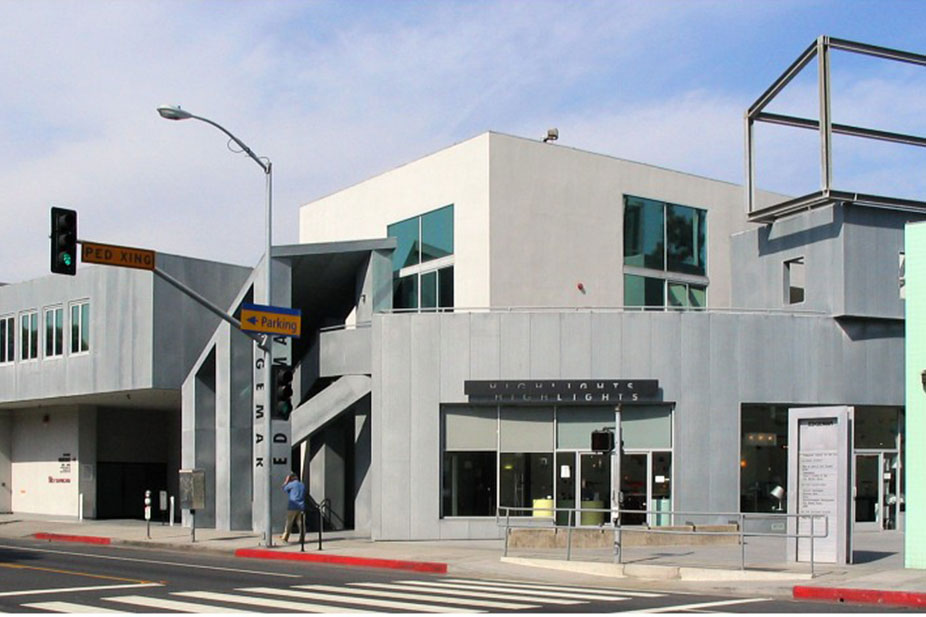 Edgemar
Designed by legendary architect Frank Gehry, the Edgemar is a mixed-use Art Deco and Modern Industrial-style shopping center located at Santa Monica's Main Street.
Completed in 1988, the Edgemar makes use of existing buildings including early 19th century warehouses and a 1940s Art Deco office building.
A popular destination for locals, the Edgemar now houses a good number of retail shops, artist lofts, and offices, as well as the Edgemar Center for the Arts and the Santa Monica Visitor Information Center.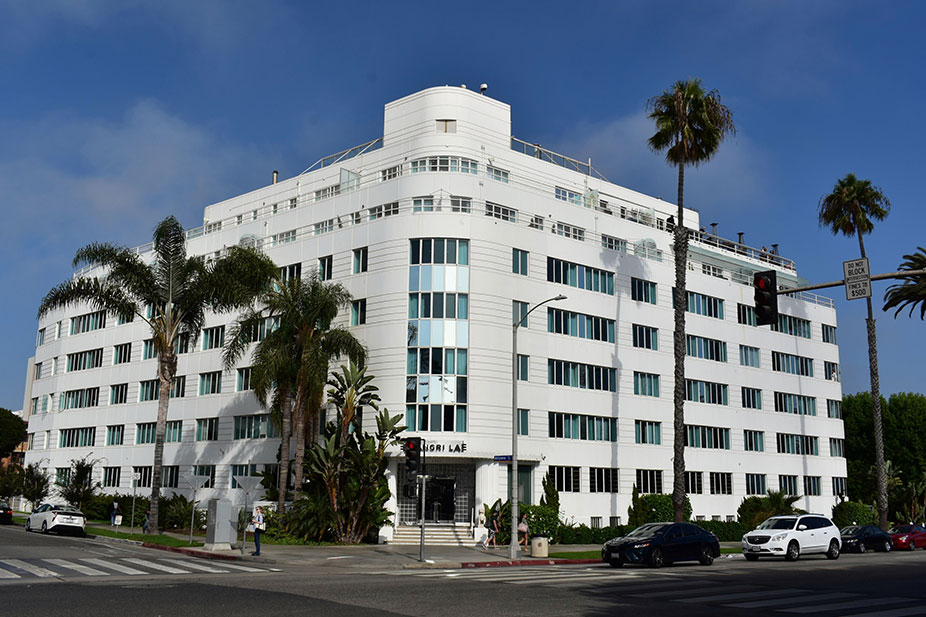 Photographer: Paul Wright
Hotel Shangri-La along Ocean Avenue is hard to miss with its glorious Art Deco and Streamline Moderne architecture— a throwback to the Golden Age of Hollywood. Located by the oceanfront, it looks like a luxury cruise ship docked, its glass windows glittering during the daytime. It was built in 1939 and designed by William E. Foster.
Residential architects and designers in Santa Monica
If you are looking to elevate your home and bring it to the level of some of the best residential spaces in Santa Monica, here are some architects and designers whose services you can tap.
A premier architecture firm led by Greg Crawford, BiLDEN is known for designing elegant and environmentally-sustainable homes. BiLDEN, whose projects have been featured in publications such as Luxe Magazine, California Home and Design, and LA Architect Magazine, is a member of the National Association of Home Builders (NAHB), NAHB Remodelers, the American Institute of Building Design, and the American Institute of Architects.
A full-service architecture company, Rees Studio Architecture specializes in building upscale residential projects that are timeless not only in beauty but functionality as well.
Led by Bobby Rees, the studio's portfolio displays stylistic versatility. A good number of their designs display a blend of modern geometric styles, glam transitional elements, and sustainability.
Led by Magdalena Glen-Schieneman, MGS Architecture is famous for their extensive knowledge of modern West Coast architecture, especially the classic and contemporary styles.
Known for marrying luxury with functionality and sustainability, MGS Architecture's designs have been featured in Luxe Interiors + Design, Modern House Magazine, and The Los Angeles Times.
A full-service firm founded by Peggy Hsu and Chris McCullough, Hsu McCullough has made a name for building architectural structures that truly reflect a homeowner's lifestyle.
An AIA-accredited company, Hsu McCullough is best known for their clean, modern, and minimalist projects, some of which have appeared in publications like The Wall Street Journal, The New York Times, The Los Angeles Times, Dwell Magazine, and Dwell On Design.
Established by Juintow Lin and Michael Fox, FoxLin Architects boasts a stunning catalog of projects containing styles ranging from rustic residential estates to modern mansions.
A multi-awarded firm with a global audience, FoxLin Architects has been featured in several esteemed design magazines including California Home + Design, Flaunt Magazine, LA Architect, Architectural Record, and Modern Luxury.
Santa Monica at a glance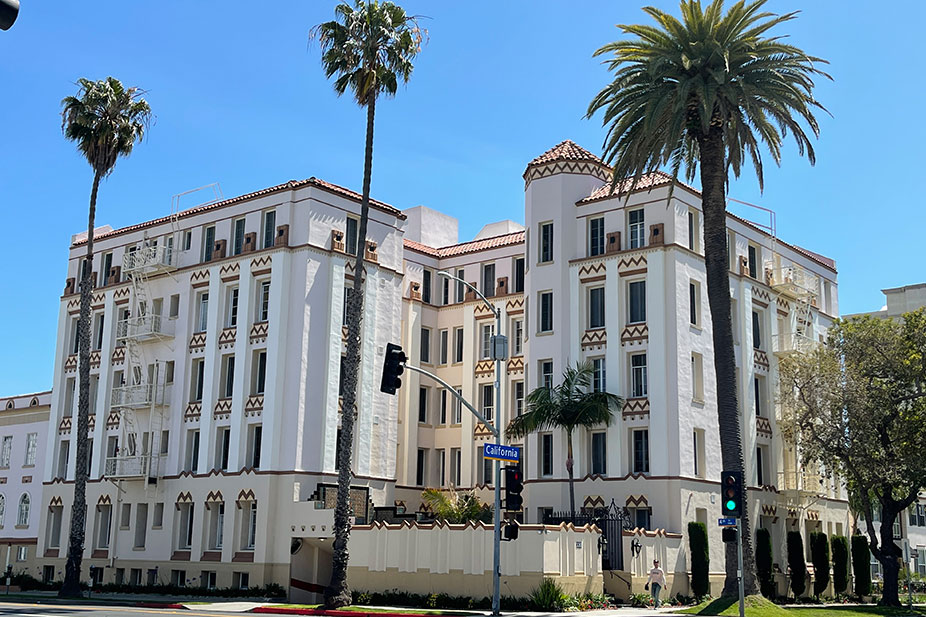 History
According to records, Santa Monica's history can be traced back to the middle of the 18th century. It was when Spanish explorer Gaspar de Portolà, camped near the location of what would become the present-day intersection of Barrington and Ohio Avenues on August 3, 1769.
During its early days, the land that would become Santa Monica was part of a series of ranches — Rancho San Vicente y Santa Monica and Rancho Boca de Santa Monica, to be specific — that were granted to select landowners during the height of the Spanish and Mexican eras.
In 1875, these ranches would come into the possession of Colonel Robert S. Baker and Senator John P. Jones of Nevada. Both men had plans of developing a prosperous port city along the Pacific Coast — a city that would eventually come to be known as Santa Monica.
Location
Located in the western part of Los Angeles County, Santa Monica is bordered by five different neighborhoods: Pacific Palisades on the north, Brentwood on the northeast, West Los Angeles on the east, Mar Vista on the southeast, and Venice on the south.
Spanning a total of 16 square miles, the city of Santa Monica is served by several major highways, including I-10, I-5, and the Pacific Coast Highway. This makes Santa Monica incredibly accessible — a factor that experts say played a large role in the city's impressive progress and development throughout the decades.
Climate
Much like the rest of Los Angeles County, Santa Monica enjoys plenty of sunny days— in fact, the city gets about 310 days of sunshine every year. This is mostly because of the region's coastal Mediterranean climate, which can also bring morning fog, especially during May, June, July, and early August.
This fog, known to residents as the May Gray or June Gloom, usually burns off before noon — but not before adding a particular touch of drama to the city's already picturesque landscape. Meanwhile, rain showers can be expected from October through March.
On average, Santa Monica experiences a temperature of 61.6°F throughout the year. September is typically the warmest month in Santa Monica, with temperatures rising to approximately 70.7°F. December, meanwhile, is typically the coldest, with temperatures often dropping to a nippy yet bearable 50.8°F.
What's it like to live in Santa Monica
Life is relaxed and easygoing in Santa Monica, making it extremely attractive for those who wish to escape the hustle and bustle of city living.
As part of the so-called Silicon Beach — the collective nickname given to the cities of Santa Monica, Venice, and Alsace for their high concentrations of tech companies and startups — Santa Monica offers a high quality of life to its residents.
Aside from that, the city of Santa Monica also offers residents a wealth of upscale amenities, world-class attractions, and premium shopping and dining options.
For instance, residents can visit public parks like Palisades Park, which offers stunning views of the ocean and the Santa Monica Mountains. Another spot residents can visit is The Santa Monica Pier, which houses a wide variety of attractions, including an amusement park and an aquarium!
Have nothing to do for the weekend? Why not catch a film at the Aero Theater? Built in the 1940s, this Art Deco structure is now operated by American Cinematheque, and regularly hosts classic film screenings and directors' lectures.
Top restaurants also abound in Santa Monica, with residents known to frequent spots like famed steakhouse The Golden Bull, upscale sushi spot Soko, and beloved Italian-American diner Ghisallo. Shoppers, on the other hand, can visit Third Street Promenade in Downtown Santa Monica, which houses everything from high-end designer boutiques to chain stores.
Ocean Avenue figures prominently into the Santa Monica lifestyle. Traversing the Santa Monica coastline, many of the city's emblematic landmarks are found along the stretch. That includes Santa Monica Pier and its ferris wheel, which is the only solar-powered ferris wheel in the world. Ocean Front Walk is another attraction evocative not only of Santa Monica but Los Angeles as a whole with its outdoor exercise apparatus befitting the original Muscle Beach.
In between archetypal Southern California attractions, Ocean Avenue also features a great collection of beachfront condos and properties—some of the best in the entire Los Angeles area. Nili Hudson can be your guide to real estate in Ocean Avenue and Santa Monica.
With over three decades of experience in the real estate industry, Nili has the expertise to help you find the perfect home.
Nili is the consummate professional to work with if you're interested in exploring Ocean Avenue real estate and Santa Monica architecture. Rated among the top 1% of Realtors nationwide, Nili has 30+ years of experience. She was also recently recognized by The Wall Street Journal as one of the best real estate professionals in the country.
Call her today at 310.486.0807 or send an email to nili(at)nilihudson(dotted)com to get started.