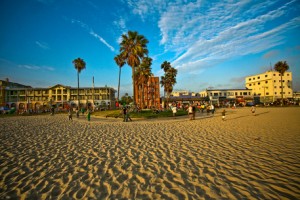 Unlike other areas of Los Angeles, Venice pretty much invented bohemia, Southern California lifestyle. Venice's square mile encompasses a patchwork of small eclectic neighborhoods, including a world famous beachfront Boardwalk: a Felliniesque pageant of roller skaters, T-shirt vendors, bongo players, bodybuilders and fire-eaters – which has become the most popular tourist destination in Southern California after Disneyland, Windward Circle, east of the beach; the car-free "walk streets"; the Venice Canals; and the Silver Triangle around the canals.
Craftsman bungalows, steel-and-glass boxes, Cape Cod cottages. Tropical oases shaded with palms and ferns. Zen retreats containing little more than raked gravel and a trickling water feature. Profuse cottage gardens with annuals and perennials from every corner of the world, jammed together in willful, exuberant and perfectly appropriate chaos.
Venice is today a vibrant area of Southern California, charged with the energy of it's cultural diversity, and it continues a tradition of progressive social change involving prominent Westsiders, putting it at the forefront of the Architectural Modern and Eco-Friendly building movement!
Photography by Erick Pleitez