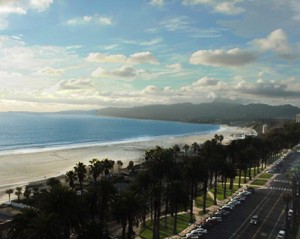 With its light, summery ocean breezes, sandy beaches and stately palms lining the Streets, Santa Monica is the epitome of the Southern California lifestyle. It's a charming combination of grand and quaint, high rise and mid-century and craftsman, beach cottage and contemporary homes in all shapes and sizes.
Whether it's a bike ride on San Vicente, a leisurely stroll on the cliffs of Palisades Park overlooking the crashing waves below, rollerblading down the bike path on the beach, or simply enjoying the fresh ocean air and sunshine.Santa Monica offers it all.
Santa Monica is a peaceful and serene environment, with access to activities to suit all tastes. Families come for the schools, others come for the lifestyle and some come to retire in a lovely beach community. All will agree that they come for the relaxed and easy lifestyle amid a world renowned metropolitan city.
The 3rd Street Promenade, Main Street, Montana Avenue, the Santa Monica Pier, sandy beaches, an abundance of cafes, boutiques, entertainment and activities all practically at your doorstep.