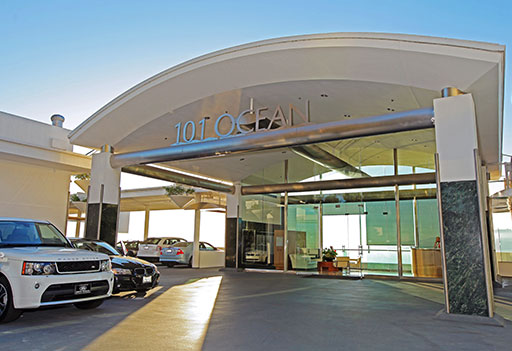 101 Ocean Avenue -
Santa Monica
Built into the hillside at the northern end of Ocean Avenue, where the mountain meets the sea, with floor to ceiling windows, capturing unobstructed views of the ocean, white water, waves crashing, mountains and sunsets,is the iconic and distinct curved tower known as 101 Ocean Avenue. Perched above the Pacific Ocean, it won't surprise you that 101 Ocean Avenue is one of the highest in demand locations to call home. Sophisticated and elegant, it would be difficult to find a better quality of sunny Southern California living than owning a residence at 101 Ocean.
Built in 1963, this exceptional property is 59-units within a 10-story building. Renovations and updates to bring the property current in 1993, where the building was taken down to the studs and reimagined, have resulted in multiple awards for architectural firm Felderman, Keatinge & Associates. From the Los Angeles Business Council, 101 Ocean Tower received the Urban Beautification Award for Best Remodeled High-Rise and from The Building Industry of Southern California, the recipient of M.A.M.E. Award for Best High-Rise Unit Plans." With picturesque views from every unit, it's not hard to find some rest and relaxation somewhere within this unbeatable location. Nobody will argue the fact that 101 Ocean also features the most exquisite, ocean view, resort like pool, spa and outdoor area of anywhere on Ocean Avenue where sunning, lounging and barbecuing will surely be enticing all your friends over for weekend visits and sunset cocktails.
When you approach 101 Ocean Avenue the glass façade teases you, knowing the view that's about to be before you. Once inside your home, the expansive and stunning views may that take you from Malibu to Catalina and all the way down to Palos Verdes and you immediately get the feeling of the luxury penetrating all your senses. Valet, doormen and concierge services ready to support and assist you. Condominiums are 1, 2 or 3 bedrooms and offer a different type of space for different needs.
Hungry? Fire up the barbeque, all while overlooking the Pacific Ocean. Staying fit, active and healthy is easy when you have access to an ocean view fitness facility. If the gym isn't your thing, there's always the great outdoors and Palisades Park, lined with palm trees that sway with the rhythm of the ocean breeze. Hiking trail heads so close and so naturally beautiful. Stop and take in a breathtaking sunset, stroll down to the Santa Monica Pier for entertainment and activities for all ages. Right around the corner are the famous Santa Monica stairs known to burn a few calories. There's a certain city feel to this part of Santa Monica because you're within walking distance or a few minutes drive to whatever it is you desire. Grocery stores, bars and restaurants both high and low profile, the Santa Monica boutiques with artisan items, the famous Santa Monica Farmers Market, The Third Street Promenade, Montana Avenue for coffee houses, cafes and more shopping. There isn't anything you might need that you can't find close by. Take a stroll down the California Incline and spend a hot summer day on the vast sandy beaches swimming, surfing or sunning and getting lost in the moment. Jump in your car and within minutes you'll be traveling north on Pacific Coast Highway heading toward Malibu, just because you can.You may even see dolphins along the way. Or if that doesn't do it for you, relax in the comfort of your home. There's always something to do when you live at the extraordinary and unique 101 Ocean Avenue.Living Well Is Everything!
Read More
Name: 101 Ocean Avenue

Units: 59

Square Feet: 1,253 - 4,148

Pool: Yes

Year Built: 1963 - Rebuilt 1994

Total Floors: 10

HOA Dues: $1,291 to $3,000

24 hour concierge, doorman and security

Fitness center

BBQ Area

Semi-Private high speed elevators

Guest parking
Bedrooms: 2 & 3 Bedrooms

Price Range: $1,500,000 - $6,000,000

Heated swimming pool with sun deck & Jacuzzi overlooking the ocean
Interested In

101 OCEAN AVENUE SANTA MONICA, CALIFORNIA 90402?