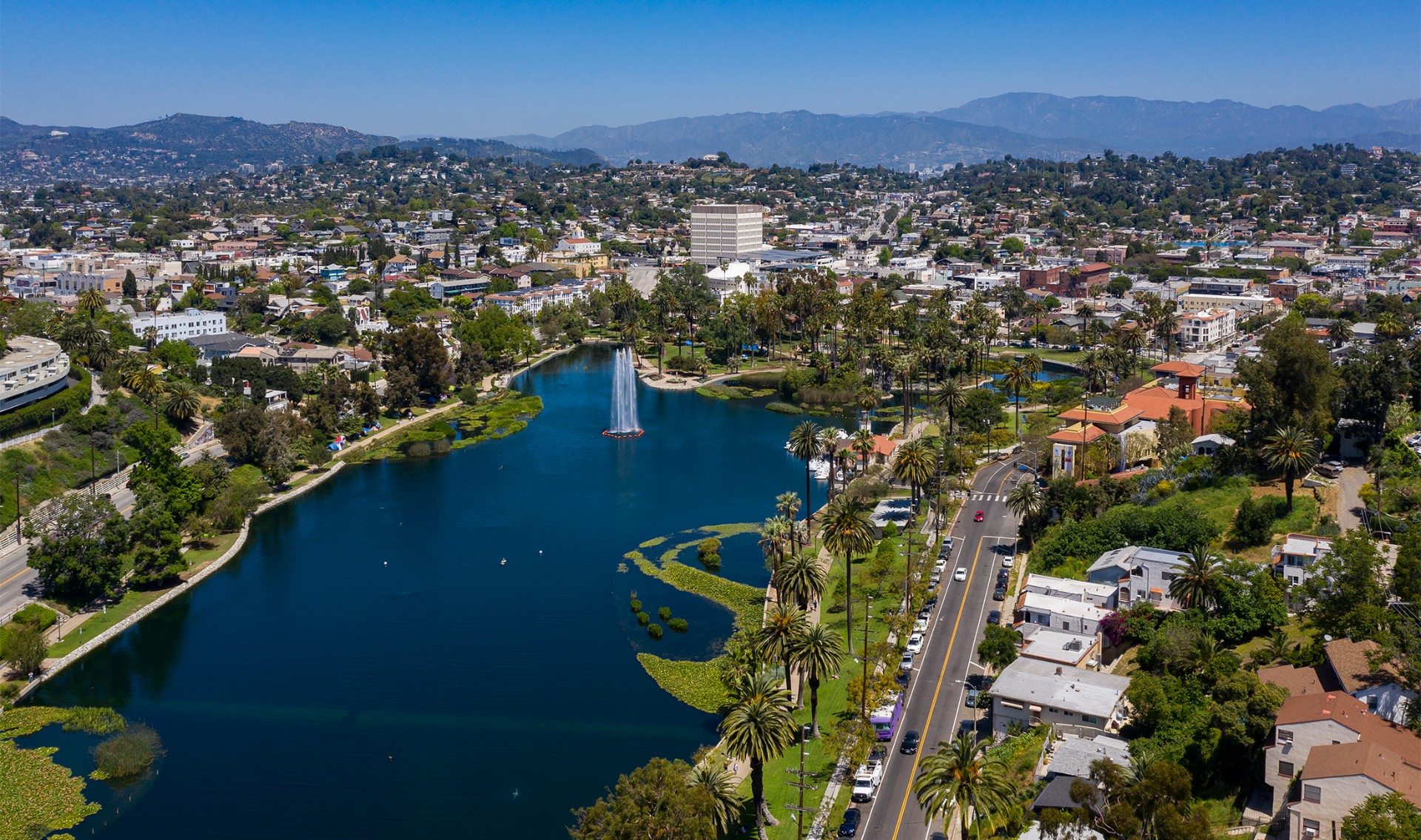 Los Feliz, Silver

Lake & Echo Park
The majority of Angelenos agree: Los Feliz, Silver Lake, and Echo Park are LA's hippest neighborhoods—or single neighborhood, combined. Though they've evolved past their ultra-youthful hipster days, the (arguably) eastside trio is just as stylish, artistic, and filled with fun. Each has its own distinct feel. United, they form a city within a city: overflowing with creativity and street art, color and quirk, bustling city vibes mixed with beautiful green spaces and hilly residential streets.
Whether you're seeking an entry-level duplex or a mid-century mansion, you'll find it here. Craftsman houses and bungalows with colorful succulent gardens. Contemporary homes perched in the hills of Silver Lake and Los Feliz's Franklin Hills. busy streets lined with early 20th-century apartment buildings, alongside shiny new condominium and townhouse complexes in sub-neighborhoods like Virgil Village, Thai Town, and Sunset Junction. Expansive estates in the leafy foothills of Griffith Park, with architectural styles ranging from Tuscan to Tudor to mid-century modern.
Bordering Los Feliz to the north, Griffith Park is one of the largest urban parks in North America, boasting 4,310 acres of grassy knolls, eucalyptus forest, recreational facilities, and scenic hiking trails—including to the base of the world-famous Hollywood sign. It's also home to the legendary Greek Theatre and the Griffith Observatory, with its constellation of astronomy-themed exhibits and epic views over Los Angeles. In Silver Lake, you can walk or jog around the bright blue reservoir, and picnic in Silver Lake Meadow. Or bring your pup for a meet-and-greet at the Silver Lake Dog park. In Echo Park, rent a swan boat and explore Echo Park Lake, or grab churros and street corn from one of the park's cherished vendors. Bike along the LA River. Wander the hills of Elysian Park—and then catch a game (or a ball!) at Dodger Stadium.
Sunset Boulevard cuts right through Silver Lake and Echo Park, offering most of the area's dining, shopping, and nightlife action. Its businesses are ever-changing, with increasingly upscale restaurants, lounges, and boutiques alternating with long-standing local music venues, vintage shops, classic dive bars, and much more. If you're seeking a quieter, village-like feel, Silver Lake Boulevard has a collection of higher-end shops and eateries, while Los Feliz's walkable Vermont and Hillhurst Avenues offer a host of shops and charming sidewalk cafes. The neighborhood even has two small, historic movie theaters: the Los Feliz 3, and the beautiful Vista Theater.
Read More