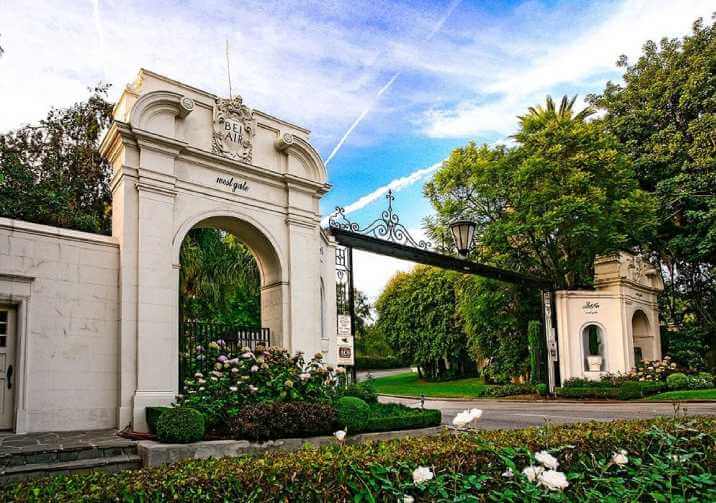 Bel Air, which literally means "beautiful air", rests in the foothills of the Santa Monica Mountains. The moment you pass through its iconic West Gate and East Gate entrances, you are greeted by a cloudlike sense of serenity. From hillside homes with sweeping ocean views to truly expansive estates, every Bel Air property is its own private California dreamworld with tall trees, spectacular landscaping, and swimming pools filled with blue sky.
Part of Los Angeles's Platinum Triangle (along with Beverly Hills and Holmby Hills), the community dates back to the 1920s, when it was dreamed into life by developer Alphonzo E. Bell as a constellation of exclusive estates. Today, Bel Air is a lush, green refuge from the bustling city for those who value space, privacy, and luxury. In fact, it boasts the highest median income in all of Los Angeles.
While Bel Air is primarily residential, it shares its exceptional setting with a handful of select attractions. Play a round of golf at the Bel-Air Country Club, known for its beautifully manicured grounds overlooking the UCLA campus. Dine at Shu Restaurant, Wolfgang Puck at Hotel Bel-Air, or the swanky Bel Air Restaurant. Visit the Getty Center and its celebrated collection of pre-20th European century art, right across the 405 freeway.
The world-class shopping districts (Rodeo Drive!), restaurants, and other attractions of LA's other Westside neighborhoods are just a short drive away. You'll want to take it slow, though—every route is the scenic route in Bel Air. In particular, the famed Mulholland Drive serves as the community's northern border, offering breathtaking panoramas of ocean, canyons, and the city below. Beautiful air, indeed.
Read More