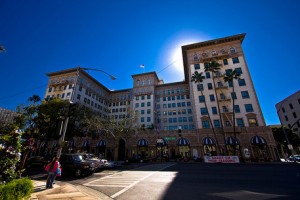 Beverly Hills is the epitome of elegance, sophistication and a lavish lifestyle. From its first days, it's been a gathering place for the very rich and famous who live, work and shop in this international city.
This exclusive city represents some of the most sought after real estate in the world with its significant estates, both in the flats or in the hills overlooking the city. As well as its sweet and comfortable neighborhoods where you can walk to all of the cities wonderful delights.
Beverly Hills is defined by significant architecture and lush sprawling estate sites; the classic shops of Rodeo Drive, stunning luxury hotels and international business concerns. Beverly Hills is the nexus of all that is refinement and style on the Westside.
Beverly Hills with its quiet tree lined streets, beautiful parks and excellent schools and library is an ideal place to bring up a family. Luxury condominiums also dot the landscape and offer an alternative lifestyle to urban individuals. Located in the heart of a major metropolitan city, Beverly Hills is a jewel in the crown that is Los Angeles.
Photography by Derek Purdy