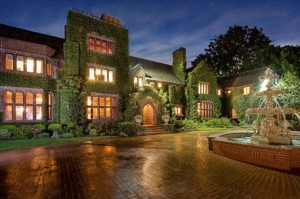 Bel Air, beautiful air, that floats above you, is caused by an air pocket that is peculiar to Bel Air, a phenomenom; a gentle oasis in a busy city. A sense of serenity overwhelms you the moment you pass through the gates of Bel Air.
Hidden behind tall trees and manicured lush landscaping are the many exquisite estates and homes that are tucked peacefully into the foothills of the Santa Monica Mountains. The panoramic vistas of ocean, canyons and city visibly breathtaking as you drive the winding canyon roads. One can but glimpse the spectacular gardens, waterfalls, tennis courts and pools peeking out from behind tall iron gates.
Bel Air was developed in the 1920's by Alfonso Bell as a restricted community, now home to all that seek a refuge from the hustle and bustle of the city. Home to the exquisite Bel Air Hotel and golf course. To the north, world renowned Mulholland Highway, overlooking the San Fernando Valley. To the south, Sunset Boulevard, U.C.L.A. and the Westside. To the West, the San Diego Freeway with easy access to all of Los Angeles. To the east, Beverly Hills and Hollywood. Perfectly situated in the heart of the city but hidden like the precious treasure that it is.