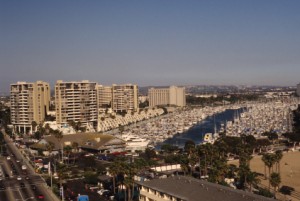 Marina Del Rey combines a laid back beach appeal with a slice of high rise urbanism on the southwestern coastal edge of the Westside of Los Angeles.Whether you're looking to sail the Santa Monica Bay, lounge poolside, bask in the sun on the sand, roller blade or bike down to the South Bay or up to the Palisades, play volleyball or just walk along the waters edge, it's all here. Find a sand dollar on the tide line and you're at peace with the world. Surf, boogie board, swim and frolic in the sea, with the Santa Monica Mountains a green backdrop. Often you'll be able to see Mt. Baldy, 50 miles from the beach and half the year capped with snow. Or bird watch, being sure not to miss the magnificent brown pelicans gliding with pre-historic grace before plummeting into the ocean in search of a meal.
Whether you're looking simply for a respite from the hustle and bustle of being 'in-town', or an outdoor playground where with water sports, land activities and fine dining abound or a place to while away your days in your retirement, Marina Del Rey is a blissful, friendly, beach community that allows you to breathe the salt air and relax into life.
Pied-a-terre beachfront condominiums, Silver Strand Estates, the Venice Canals and Marina Pointe full amenity high rise living offer a myriad of residential choices.