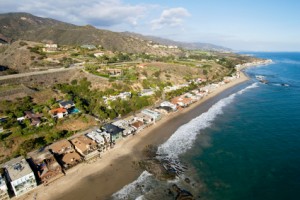 Malibu, the quintessential Southern California beach community. An eclectic mix of old and new, grand and quaint.  Sprawling estates on the shores and in the hills. Equestrian properties and hillside architectural pied-a-terres. Awesome Ocean and City views. Cottages and condominiums on the sand.
A twenty-seven mile stretch of stunning coastline and mountains between Los Angeles and the Ventura County line. The rhythm of the surf, sand and sun combines with the tranquil sky and land to become a place of magnificent beauty and serenty. Malibu offers a subtle, understated sophistication in an artistic and enchanting community.
Residents enjoy the small town atmosphere of neighborhood businesses where famous or not, they're treated like a friend. Casual dining, upscale boutiques, surf shops and theaters can all be found gathered around the town's Civic Center.